Industry News: Nikon Announced The NIKKOR Z 800mm f/6.3 VR S Telephoto Lens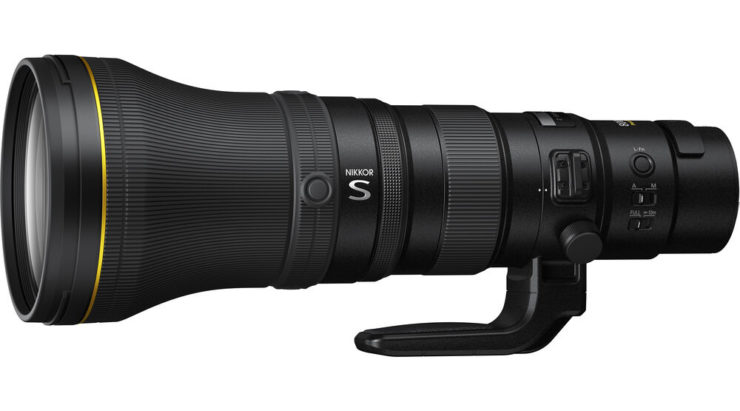 Nikon released a new telephoto prime lens for their Z system, the NIKKOR Z 800mm f/6.3 VR S.
At a glance:
Z-Mount Lens/FX Format
Aperture Range: f/6.3 to f/32
PF Element, 50% Weight Reduction
SR and ED Elements
Nano Crystal Coat
Multi-Focus Stepping Motor AF System
Vibration Reduction Image Stabilization
Customizable Fn and Memory Set Buttons
Weather-Sealed Design, Fluorine Coating
Rotating Tripod Collar
Preorders are live at $6,496.95: B&H Photo | Adorama
Nikon press release:
Nikon releases the NIKKOR Z 800mm f/6.3 VR S, a super-telephoto prime lens for the Nikon Z mount system
Realizing dynamic shooting of distant subjects such as wild birds and other wildlife handheld or with a monopod
TOKYO – Nikon Corporation (Nikon) is pleased to announce the release of the NIKKOR Z 800mm f/6.3 VR S, a super-telephoto prime lens that is compatible with full-frame/FX-format mirrorless cameras for which the Nikon Z mount system has been adopted. The development of this lens was announced on December 14, 2021.
The NIKKOR Z 800mm f/6.3 VR S, featuring the longest focal length of 800 mm among NIKKOR Z lenses, employs a PF (Phase Fresnel) lens for the first time in the NIKKOR Z lineup, realizing approx. 48% reduction in weight and approx. 16% in length compared to the AF-S NIKKOR 800mm f/5.6E FL ED VR. It not only facilitates shooting handheld or with a monopod, but also allows users to capture images of wild birds and other wildlife in mountain areas, reducing the burden during long hours of picture-taking and transportation.
The NIKKOR Z 800mm f/6.3 VR S belongs to the S-Line* lens series that pursues the ultimate in optical performance. In addition to the PF lens element, ED glass and SR lens elements are employed to compensate chromatic aberration for minimized color bleeding, allowing accurate depiction of even the finest feathers of distant wild birds. The adoption of Nano Crystal Coat, as well as the optimized shape and location of the PF lens element also contribute to reducing ghost, achieving clearer images. Furthermore, with the lens' center of gravity positioned closer to the body side, the NIKKOR Z 800mm f/6.3 VR S is optimal for shooting moving subjects such as airplanes, because users are less aware of the weight of the lens even if it is swung around during panning. High operability and superior rendering performance support reliable use of this lens by many users ranging from advanced amateurs to professional photographers.
Nikon will continue to pursue a new dimension in optical performance while meeting users' needs, contributing to the development of imaging culture, with the hope of expanding possibilities for imaging expression.
Primary features
Focal length can be extended to 1,120 mm with the Z TELECONVERTER TC-1.4x, and 1,600 mm with the Z TELECONVERTER TC-2.0x while maintaining outstanding resolution*1.
Focal length can be extended up to 1,200mm-equivalant without a teleconverter by setting the camera's image area to [DX (24×16)] format.
The optical VR function that provides a superior compensation effect equivalent to shooting at a shutter speed 5.0 stops*2 faster is incorporated. When paired with the Z 9, the effect of 5.5 stops*2 is achieved with Synchro VR activation.
The employment of an STM ensures high-speed and accurate AF with quiet operational sounds.
Superior dust- and drip-resistant performance*3, outstanding reliability with robustness and weather resistance, and anti-fouling performance with the adoption of fluorine coat.
Anti-slip rubber coating is applied to a larger area of the lens body, ensuring more comfortable holding.
Four L-Fn2 buttons and one L-Fn button to which a wide variety of functions can be assigned are adopted to suit users' preferences.
The supplied lens hood featuring an improved lock mechanism enables attachment and removal with one hand even on a large-diameter lens.
Employs the Memory Recall function*4 that instantly recalls focus positions that have been stored in advance, via pressing an assigned button.
A design considering video recording including a focus-breathing compensation function which effectively reduces shifting of the angle of view when focusing, and stable exposure.