Industry News: Nikon Z 9 Firmware Update Released, So Big It Could Have Been A New Camera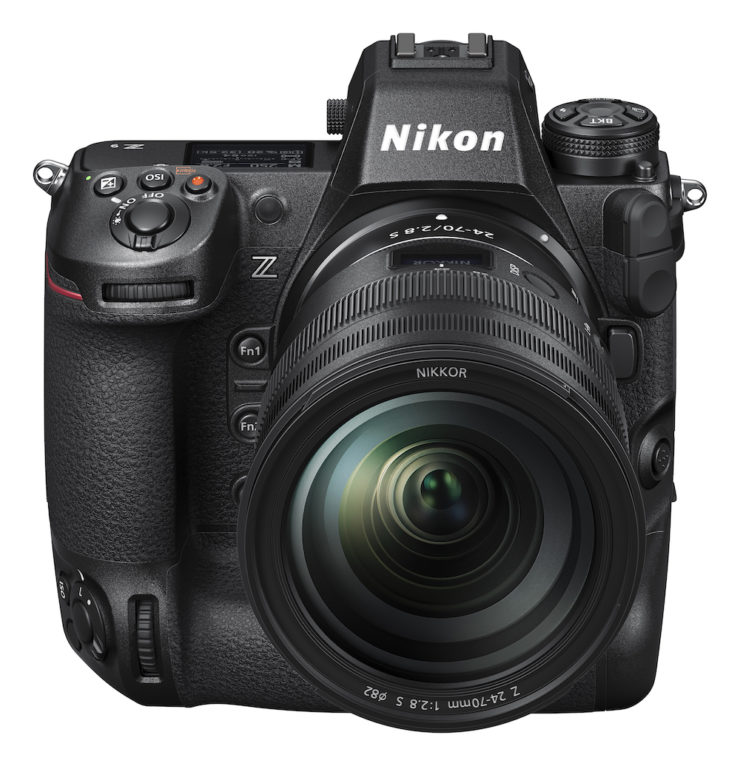 Nikon released a Nikon Z 9 firmware update. There are so many new features that it could have made for an entirely new camera.
Nikon Z 9 at a glance:
45.7MP FX-Format Stacked CMOS Sensor
EXPEED 7 Image Processor
8K30p and 4K120p Video, 10-Bit Internal
Up to 20 fps Raw, 30 fps JPEG Shooting
493-Point Phase-Detection AF System
AI-Based Subject Detection and Tracking
Blackout-Free Real Live Viewfinder
3.2″ 4-Axis Tilting Touchscreen LCD
Vertical Grip, 2x CFexpress Type B Slots
5 GHz Wi-Fi, Bluetooth, and GNSS
The Nikon Z 9 firmware update is free and will be available later this month. These are the most prominent new features:
RAW video internal recording in 12-bit 8.3K/60p
Various new video features
Pre-Release Capture
Improved AF performance, including Custom Wide-Area AF with 20 options
All new features are described in the press release below, or watch the short video. Nikon made not only a rather interesting camera with the Z 9, but also a serious competitor to the Canon EOS R3.
Nikon Z 9:
America: B&H Photo, Adorama, Amazon USA, Amazon Canada, Canon Canada, Canon USA
Europe & UK: Amazon DE, Amazon UK, Amazon IT, Wex Photo Video, Canon DE, Canon UK

Nikon press release:
Nikon releases the upgraded firmware for its full-frame mirrorless cameras — Version 2.00 for the Nikon Z 9, and Version 1.40 for the Nikon Z 7II and Nikon Z 6II
TOKYO – Nikon Corporation (Nikon) is pleased to announce the release of firmware version 2.00 for its flagship full-frame/FX-format mirrorless camera, the Nikon Z 9, and firmware version 1.40 for its full-frame/FX-format mirrorless cameras, the Nikon Z 7II and Nikon Z 6II, on April 20, 2022.
Firmware version 2.00 for the Z 9 will support in-camera recording of RAW video including over 8K which was announced in the press release dated October 28, 2021. As well as 12-bit RAW 8.3K/60p in-camera recording which achieves rich tonal gradation, various video features will also be greatly evolved to meet video production needs. For still shooting, it also introduces Pre-Release Capture*1, a first*2 for full-frame mirrorless cameras. This records images for up to one second before the shutter-release button is pressed all the way down after the half press of the button. Furthermore, Custom Wide-Area AF that supports various AF-area arrangement patterns is newly adopted, enabling more reliable acquisition of main subjects according to each scene. In addition, some functions and features of D-SLRs including the Prioritize Viewfinder function have also become available so that Z 9 users switching from D-SLRs can benefit from consistent operational feel.
With firmware version 1.40 for the Nikon Z 7II and Z 6II, it is possible to prevent the focus point from unintentionally moving to the background in Auto-area AF mode, so that photographers can more easily focus on the closer subject when AF starts. This firmware update also supports the ML-L7 Remote Control, which allows you to take photos when away from the camera, facilitating the taking of selfies from a distance where you cannot reach the shutter-release button, and nightscapes which are likely to cause camera shake when the button is pressed.
Nikon will continuously meet users' needs through timely updates of firmware versions with various useful functions.
*1Pre-Release Capture can be configured only when High-Speed Frame Capture+ is active.
*2As of April 14, 2022. Based on Nikon research.
Primary features of firmware version 2.00 for the Z 9
1.Evolution of video features such as RAW video internal recording in 12-bit 8.3K/60p This version update enables internal recording in two different 12-bit RAW video formats — N-RAW and ProRes RAW HQ*1. The new format, Nikon's proprietary N-RAW, offers recording with a file size approximately half that of ProRes RAW HQ, providing longer recording time. It supports up to 8.3K/60p and 4.1K/120p when shooting in the FX-based video format. Up to 4.1K/60p can be supported in the FX-based video format with ProRes RAW HQ. A Full-HD mp4 proxy file suitable for transfer and editing is generated at the same time as RAW video file generation in either format. You can record a video on a compact system without an external recording device attached and achieve full-scale editing by taking advantage of rich 12-bit tonal gradation utilizing video editing software*2. Other new features include a variety of useful video functions, such as recording in high-resolution 4K UHD/60p oversampled from 8K.

*1Use of the ProGrade Digital COBALT 650GB or ProGrade Digital COBALT 325GB memory card is recommended.
*2N-RAW will be supported by EDIUS X ver.10.32 (by Grass Valley) and DaVinci Resolve 17.4.6, DaVinci Resolve Studio 17.4.6 (by Blackmagic Design). For N-RAW readout in 8K, DaVinci Resolve Studio ver.17.4.6 is required. As of April 14, 2022.


2.Various features added with consideration given to video recording With firmware version 2.00 for the Z 9, operability in video recording is also remarkably improved by adding useful features. The red REC frame is displayed on the viewfinder and monitor during recording to indicate recording is in progress, preventing mis-pressing of the rec button. Also, video recording settings, such as frame size and rate or audio, can be confirmed on a single screen with View Video Info. The Waveform Monitor can confirm the brightness levels according to the subject position. In addition, when recording video in M mode, ISO sensitivity can be adjusted in 1/6 steps, enabling finer exposure adjustment while preventing ISO from increasing more than needed. View Video Info display image.

3.Pre-Release Capture acquires decisive moments more securely than ever before The version update introduces the Pre-Release Capture for the first time in a full-frame mirrorless camera. This new feature records images for up to a second before the shutter-release button is pressed all the way down during High-Speed Frame Capture+ for still shooting. For instance, you can capture the moment when a baseball bat hits a ball even when pressing the button all the way down after you see the batter hit the ball while half pressing the button. The screen display for High-Speed Frame Capture+ is improved by adding the Release Timing Indicators, so that users can visually recognize the shutter release timing. In addition, version 2.00 allows you to jump to the first frame of each continuously shot sequence during playback. This makes workflow more comfortable for sports or bird photographers who tend to use high-speed continuous shooting. © Kenjiro Matsuo Sample image is provided for illustrative purposes only to explain functions of Pre-Release Capture.

4.Improved AF performance, including Custom Wide-Area AF with 20 options The updated firmware newly adds Custom Wide-Area AF, which is similar to the Group-Area AF featuring 17 options that is highly evaluated with the D-SLR camera, Nikon D6. The pattern of AF area arrangement is selectable from 20 options for stills and 12 for videos, realizing the capture of main subjects in a wide range of scenes. Since it also supports subject detection, you can nail the decisive moment with perfect focus on an athlete behind obstacles in hurdling, for example, by setting the AF area to the upper half of the frame. Also, through reassessment of the algorithm, AF stability, tracking performance, and subject detection in low-light situations have been enhanced. © Kenjiro Matsuo Sample image is provided for illustrative purposes only to explain functions of Custom Wide-Area AF, area size of 19×3.

5.Other features

Motion Blend function overlays a series of subject movements during continuous shooting into a single still image in-camera without using editing software.
With the Save Consecutive Frames function, frames in a selected section of footage can be saved as a series of JPEG still images while the playback is paused.
*