Inside Lightroom & Photoshop CC Workflow Article By Canon Professional Network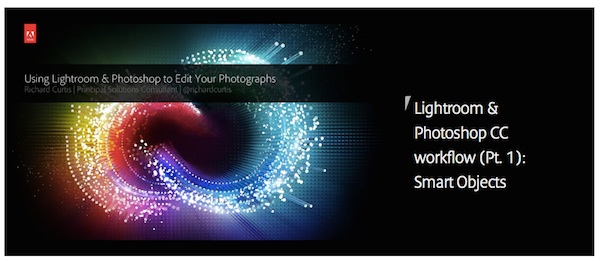 Somewhat surprising. Canon Professional Network started publishing the first article (and video) in an ongoing series about Lightroom and Photoshop Creative Cloud workflow.
Adobe now offers a Creative Cloud Photography bundle that includes Lightroom editing software and Photoshop CC for photographers who want to organise, edit, enhance and share their images via desktop or their mobile devices – this package currently comes bundled with the Canon EOS 5D Mark III and EOS 6D DSLRs, plus the PowerShot G1 X Mark II and G7 X compact cameras. In a four-part CPN series of articles and video tutorials Richard Curtis (a Principal Solutions Consultant in Digital Imaging for Adobe UK) will examine the workflow between Lightroom software and Photoshop CC to help you to understand the benefits of working with both in tandem. In Part 1 of this series Richard Curtis explains how to use Smart Objects within the Lightroom and Photoshop CC workflow and, in a special video, he reveals how Smart Objects ensure your image edits are non-destructive for longer.
I love Lightroom, but I also think Canon's Digital Photo Professional is an excellent tool (though it doesn't have the workflow features LR has). Does Canon no longer believe in their Digital Photo Professional software?