Interview with Chuck Westfall about Canon XC10 (no raw and EVF to keep costs down)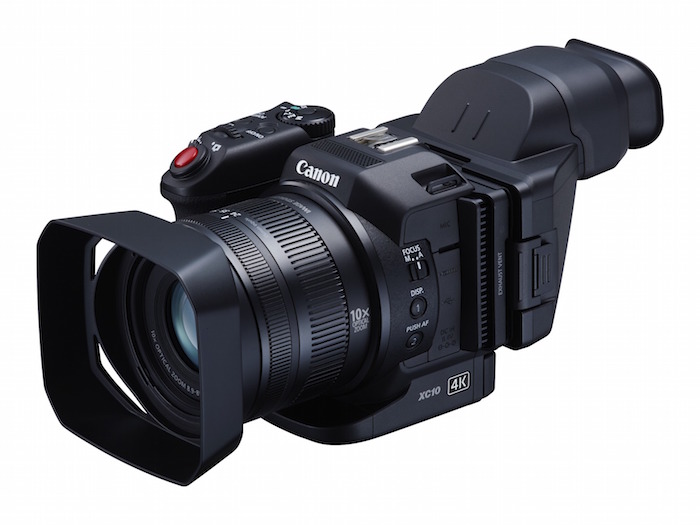 Canon´s Chuck Westfall, Technical Advisor for Canon U.S.A.'s Professional Engineering and Solutions Division, gave an interview to DPReview during NAB 2015. The main topic being Canon´s new XC10. Some excerpts:
Q: Some of our readers were disappointed that the XC10 was a fixed lens camera. What drove that particular design choice?

A: It's important to remember that part of the story of this camera is to reduce the size, weight, and cost. With those goals in mind, the idea of having a fixed lens is really quite complimentary to the goals of the camera, while at the same time providing the most versatile focal length range possible. A fixed lens solution really makes that possible. Also, other factors such as keeping the sensor clean in the field were important as well.

[…]

Q: Why did Canon choose to use a 12MP sensor? Was there a specific reason for that choice?

A: Yes, absolutely. One of the things that we looked at when developing this camera was how to achieve the best balance between still and video image quality by reducing the resolution somewhat compared to a conventional still camera. What we're able to do is increase the performance of this camera in low light. The noise levels are quite good right up to its limit, and with a 1" sensor that can become an issue. Also, for most of the users of this camera 12MP is a good range in terms of resolution. It can be used to make a large print, and is more than adequate for anything that will be shown online.
Mr. Westfall also said that the XC10 doesn't have raw video and a built-in EVF "for cost reasons".
Head over to DPReview to read the full interview –>
Canon's new, 4k and WiFi enabled, XC10 camera (announcement) sells for $2,499 and is available for pre-order at B&H Photo | Adorama. Canon XC10 specs:
4K Wide-Angle 10x Zoom Lens with Image
12 Megapixel One-Inch 4K-Compatible CMOS Image Sensor
DiG!C DV 5 Image Processor
XF-AVC Codec for 4K 30p and Full HD 60p
Multiple Recording Modes and Frame Rates
Slow and Fast Motion Recording
Exceptional Still Capture Capability
High Speed Dual Pixel AF with Face Detection
CFast 4K Recording Technology
Canon Log and Wide Dynamic Range Gamma
Image Settings Compatible with Cinema EOS Cameras
Compact and Ergonomic Design
Wireless Operation
Workflow Versatility
Compatible with Multiple Canon Accessories