Killer Deal: Sigma 40mm f/1.4 DG HSM ART Lens – $799 (reg. $1399)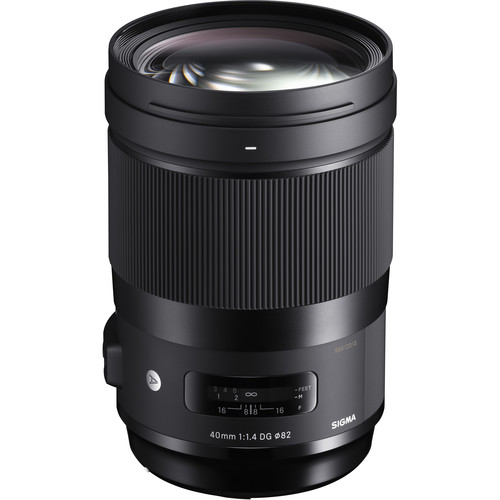 Very good if not excellent deal at Adorama. The Sigma 40mm f/1.4 DG HSM ART Lens for Canon EF mount has a 43% discount.
At a glance:
EF-Mount Lens/Full-Frame Format
Aperture Range: f/1.4 to f/16
Three FLD Elements, Three SLD Elements
One Aspherical Element
Super Multi-Layer Coating
Hyper Sonic AF Motor, Manual Override
Weather-Sealed, Protective Front Coating
Rounded 9-Blade Diaphragm
Compatible with Sigma USB Dock
Get the Sigma 40mm f/1.4 DG HSM ART Lens for Canon EF on sale at $799. Compare at $1,399.
More selected deals:
SIGMA 40mm f/1.4 DG HSM
Exceptional quality is the natural instinct of creators. An evolution of the Art line is driven by this desire.
Inherits the development philosophy behind the SIGMA CINE LENS
High-end cine lenses used by professional filmmakers are required to have a consistent characteristic over the entire sensor at a high level, because these lenses are used to film a subject moving freely on the screen or while panning or tilting the camera. This represents exactly the concept of the Art line; "optical performance comes first", and the high-end cine lenses need to be designed with this idea. The SIGMA 40mm F1.4 DG HSM | Art is SIGMA's first lens developed originally to live up to the sought-after angle of view and performance standard for a cine lens. This new perspective to ensure the quality of professional equipment for visual production empowers it to breakthrough also as an interchangeable photographic lens.
Optical performance that meets the requirement of high-end cine lenses
This lens effectively arranges three FLD ("F" Low Dispersion) glass elements and three SLD (Special Low Dispersion) glass elements to correct axial chromatic aberration and magnification chromatic aberration to the limit. A sharp image is formed on the focal plane with the maximum aperture and contrast with the soft bokeh in the out of focus area highlights the solidity of a subject. With a distortion of 1% or below and a sagittal coma flare corrected to the limit, it demonstrates a consistent optical characteristic over the entire sensor. This is the ultimate large-diameter standard lens that has both 8K-compatible resolution and beautiful bokeh.
Designed to meet all shooting conditions
The water- and oil-repellent coating on the front lens element, together with the dust- and splash-proof structure, ensures excellent performance even in the most challenging shooting conditions. The high-speed AF, thanks to the HSM (Hyper Sonic Motor) with an updated algorithm, captures instantaneous photography movement.
SIGMA CINE LENS – Inheriting the high standard and superior optical performance of SIGMA's Art lenses
The optical design of SIGMA's Art line is adopted and extended to "SIGMA CINE LENS" to achieve professional equipment for video production, which have been used in various filming situations. Thanks to its superior optical performance, the lenses can accommodate 50 million pixels and above in full-frame still cameras and meet the high-resolution requirements of leading edge 8K video technology. As high-end cine lenses, SIGMA offers 10 prime lenses, ranging from 14mm to 135mm, compatible with 35mm full-frame models, in the FF High Speed Prime Line. SIGMA also provides one zoom lens in the FF Zoom Line, and two zoom lenses compatible with super 35 in the High Speed Zoom Line.
Other Featuress
• Hood with lock
• Manual Override (MO) capable of switching two full-time manual modes
• Manual Override (MO) capable of switching two full-time manual modes
• Compatible with SIGMA USB DOCK
• Designed to minimize flare and ghosting
• High-precision, rugged brass bayonet mount
• "Made in Japan" craftsmanship