Canon Patent: 35-600mm f/4-7.2 Zoom Lens For The RF Mount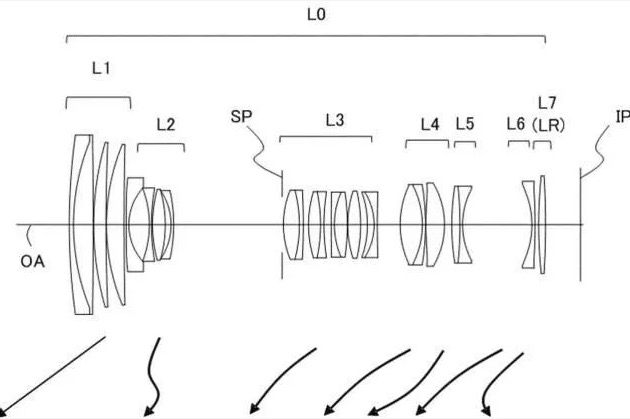 Here is a new Canon patent application. As so often lately, this one too refers to an RF mount lens.
Canon patent application 2021-193435 (Japan) discusses optical formulas for what could be a very interesting zoom lens for EOS R photographers. Indeed, it could be the mother of all zoom lenses. A RF 35-600mm f/4-7.2 zoom lens (example 4, below) is discussed in the patent literature (along with a 24-300mm lens).
Example 1:
Focus focal length 24.74 76.74 387.90
F number 3.60 5.30 6.50
Half angle of view 39.51 15.75 3.19
Image height 20.40 21.64 21.64
Lens total length 194.51 241.18 287.86
BF 13.32 48.47 46.4
Example 2:
Focal length 24.72 69.39 289.87
F number 3.60 5.30 5.88
Half angle of view 39.53 17.32 4.27
Image height 20.40 21.64 21.64
Lens total length 168.78 202.25 235.73
BF 13.34 39.12 36.81
Example 3:
Focal length 28.81 94.89 484.70
F number 3.60 5.30 7.20
Half angle of view 35.30 12.84 2.56
Image height 20.40 21.64 21.64
Lens total length 194.00 240.17 286.34
BF 13.85 43.81 39.37
Example 4:
Focal length 33.05 140.67 581.87
F number 4.10 5.90 7.20
Half angle of view 31.69 8.74 2.13
Image height 20.40 21.64 21.64
Lens total length 218.72 276.34 333.97
BF 14.32 39.28 46.78
More Canon patent applications are listed here. Some particularly interesting patent applications we think might get into production are these:
[via asobinet.com]