Canon Patent: Mirrorless Cam With Very Large Display And Virtual Control Wheel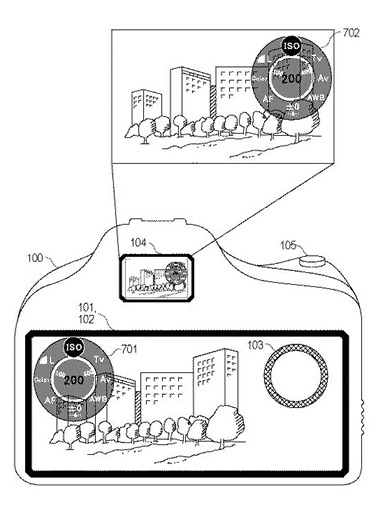 Here is a Canon patent application (2020-005214, Japan) dealing with a mirrorless camera having a pretty large display on the back.
According to the patent literature, the large display on the back should replace the control wheel you usually find on the back of a Canon camera. As you can see in the image above, a virtual control wheel is displayed (should also have haptic feedback). Moreover, it seems more than one virtual control wheel can be displayed on the display and that there is sort of visual feedback in the electronic viewfinder.
This is pretty cool in our opinion, and definitely might get into production.
More patent applications by Canon are listed here. Some particularly interesting patent applications we think might get into production are these: