Canon Patent Application: High Speed Mirror Control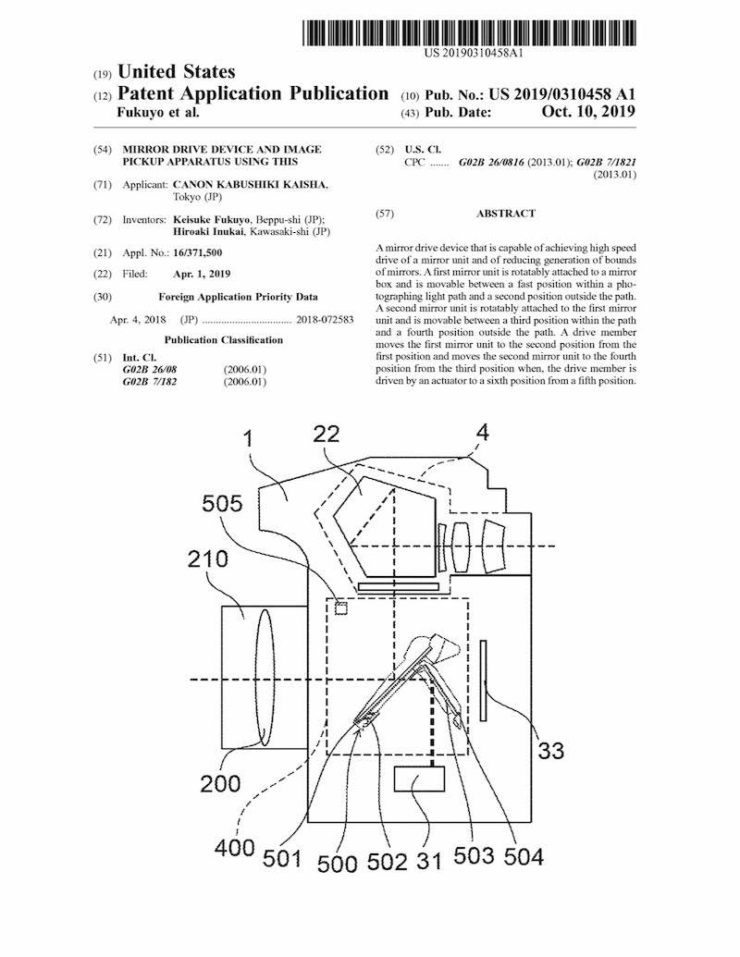 Canon patent application 20190310458 (US) discusses technology and methods for a high speed mirror mechanism.
From the patent application literature:
In view of improvement of continuous photographing performance, a technique for stably keeping the main mirror and sub mirror in the mirror-down state promptly by reducing bounds of the mirrors that occur when the mirror unit that is rapidly driven toward the mirror-down state contacts the stopper is continuously required. A conventional mirror drive device drives the mirror unit between the mirror-down state and the mirror-up state by transmitting power to the main mirror and by making the sub mirror follow a motion of the main mirror using a combination of a toggle spring and a reversal cam or a linkage mechanism. 

[…] A quick return mirror mechanism of a single-lens reflex camera moves a mirror unit that has a main mirror and a sub mirror at a high speed between a mirror-down state in which the mirror unit enters into a photographing light path and a mirror-up state in which the mirror unit is retracted from the photographing light path. […] A mirror drive device that is capable of achieving high speed drive of a mirror unit and of reducing generation of bounds of mirrors. A first mirror unit is rotatably attached to a mirror box and is movable between a fast position within a photographing light path and a second position outside the path. A second mirror unit is rotatably attached to the first mirror unit and is movable between a third position within the path and a fourth position outside the path. A drive member moves the first mirror unit to the second position from the first position and moves the second mirror unit to the fourth position from the third position when, the drive member is driven by an actuator to a sixth position from a fifth position.
We think this Canon patent application might get into production. High fps cameras like the EOS-1D X series in the future may well get the improvements discussed in the patent literature.
More Canon patent applications are listed here. Some particularly interesting patent applications we think might get into production are these: