Canon Patent Shows RF Mount Zoom Lens That Could Be For An APS-C EOS R Camera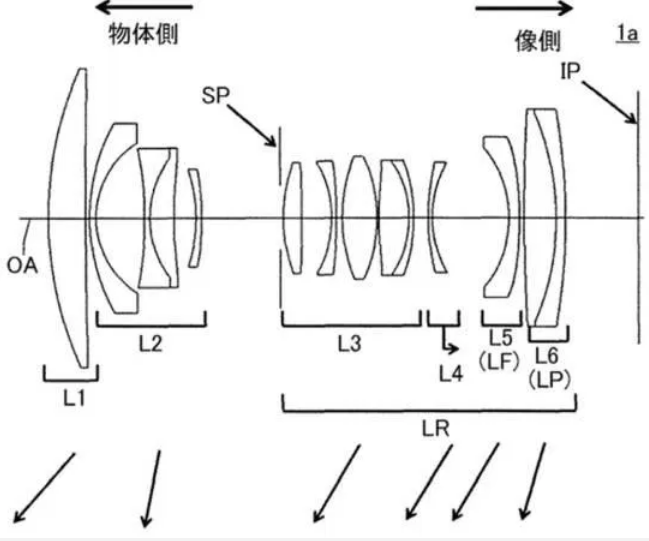 Interesting Canon patent application. Various zoom lenses for the EOS R system are discussed, with one being particularly interesting since it seems to point to an APS-C EOS R.
Canon patent application (2020-170102, Japan) discusses optical formulas for zoom lenses for the Canon EOS R system. The patent literature discusses the following zoom lenses:
Example 1
Example 2
Example 3
Focal length
24.72-67.90
24.72-116.40
24.72-101.85
F value
4.12
4.04-7.31
4.29-7.31
Half angle of view
41.50-17.30
41.80-10.30
41.80-11.80
Image height
19.69-21.64
19.90-21.64
19.90-21.64
full length
101.50-141.15
109.01-159.02
107.52-158.03
BF
12.50-24.86
1415-31.01
13.48-35.52
Example 4
Example 5
Focal length
27.72-82.45
15.45-67.90
F value
3.53-5.88
3.93-7.31
Half angle of view
38.53-14.70
42.40-11.37
Image height
19.69-21.64
12.56-13.65
full length
101.50-142.50
71.26-113.36
BF
14.16-32.52
12.40-24.51
Look at example 5
As you can see from the table above, there are 24-70mm, 24-116mm, 24-100mm, 27.80mm, and, listed under "Example 5", a 15-70mm f/4-7.1 zoom lens with an image height that doesn't work for a full frame sensor on a mirrorless camera. However, the lens is based on the same design principles as the others, so it might be for an APS-C EOS R camera.
If you have a better understanding of the patent (or of Japanese), spotted by asobinet.com, please help me out on this. Is this really a lens for an EOS R camera with an APS-C sensor??
More Canon patent applications are listed here. Some particularly interesting patent applications we think might get into production are these: