5DayDeal Photography Bundle 2020 Live – Learning Tools Worth $2964 For $89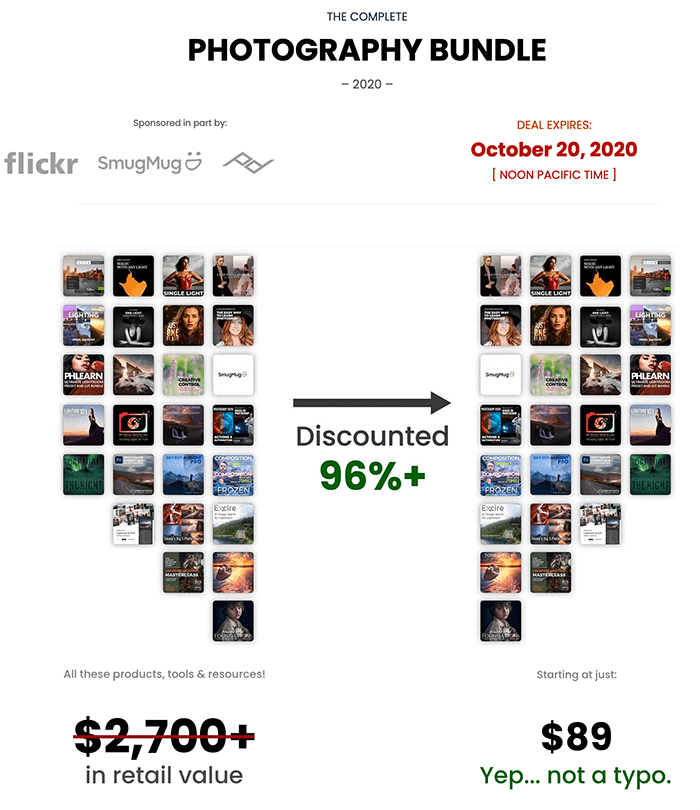 It's this time of the year. When you can get the 5DayDeal Photography bundle of educational and learning material and courses at a an insane bargain price. Ant it's for a good cause too, and for 5 days.
The 5DayDeal Photography Bundle 2020 is live now and on sale at $89. All together we are talking about learning and educational tools worth $2,964. A bundle with everything you need to up your photography, tools and training from many of the top photography brands in the industry. It's thousands of dollars worth of resources for just $89.
And there is more. By purchasing the 5DayDeal Photography Bundle you'll be joining forces with others and support numerous charities. For every bundle sold, 10% of the revenue goes directly to making the world a better place to live. Learn more here.
Here is what you get this year for $89:
SmugMug Portfolio Account*6 Months Membership – *New Customers Only – By SmugMug .com
$162.00
Scott Kelby's Complete Bundle – Learn Photoshop in 1 Hour, Just One Flash, Beginners Start Here & Lightroom Preset Pack Vol.1By Kelby One
$107.00
Dramatic Single Light Portraiture – By Matt Granger
$197.00
Plotaverse • Pro Annual12mth Subscription – By Plotaverse App
$99.00
Magic With Any Light – By Jerry Ghionis
$97.00
Time Blending Photoshop Tutorial & Complex Masking Photoshop Tutorial – By Mads Peter Iversen
$138.00
How To Photograph Landscapes In All Lighting Conditions – By Nigel Danson
$79.00
One Light Masterclass – By Joel Grimes
$197.00
PHLEARN Ultimate Lightroom Preset and LUT Bundle – By PHLEARN .com
$105.00
Lighting 101 | Introduction to Flash Photography – By SLR Lounge
$99.00
Shooting Digital LIKE FILM – By Sebastian Michaels
$197.00
Jessica Drossin Beautiful World Foundations2020 Version – By Jessica Drossin
$180.00
Creative Control 1 & 2Lightroom Presets – By Nicole S. Young
$100.00
Essential Color Photoshop ActionsSet I & Set II – By Lara Jade
$138.00
Photoshop 2020 Actions and Automation Training Course, plus Video in Photoshop (A Photographer & Designer's Guide) – By photoshopCAFE .com
$100.00
Composition Made Easy – Chapter 1 & 2 Plus, Frozen Waterfall Photography Tutorial – By Gavin Hardcastle
$117.00
Jimmy's Big 5 Photos Course – By Jimmy McIntyre
$70.00
Capture the Night – By Ryan Dyar
$70.00
Sky Replacement Pro – By Serge Ramelli
$97.00
Tone and Detail for Lightroom – By Christopher O'Donnell
$90.00
Essential Photoshop for Landscape Photography – By Nick Page
$89.00
The Complete Lightroom & ACR Presets Bundle – By contrastly .com
$99.00
Photoshop Essentials for Photographers – By Dave Cross
$89.00
The Easy Way to Learn Photoshop – By Chris Orwig
$97.00
Location Lighting Masterclass – By Piet Van den Eynde
$92.00
Excire FotoManage find share – simple and fastBy Excire Inc. – $59.00
All what is listed above for $89. but just for 5 days.