Laowa 4mm f/2.8 Fisheye Lens For EOS M Announced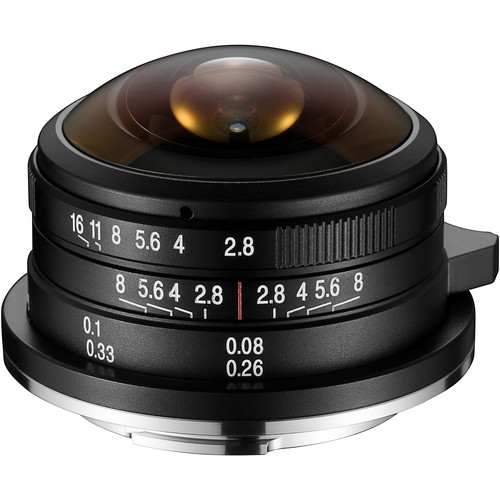 The Laowa 4mm f/2.8 Fisheye lens as launched back in August 2019 for the MFT system.
Now Venus Optics announced the Laowa 4mm f/2.8 Fisheye for three more mount types, Canon EF-M (EOS M), Sony E, Fuji. And the best thing? It sells for $200.
Specifications:
| Laowa 4mm F2.8 Fisheye | |
| --- | --- |
| Focal length | 4mm |
| Max aperture | f/2.8 |
| Min aperture | f/16 |
| Angle of view | 210° |
| Format | Micro Four Thirds |
| Mount | Micro Four Thirds |
| Focus type | Manual Focus |
| Lens type | Fisheye |
| Optics | 7 elements in 6 groups |
| Aperture blades | 7 |
| Min focus distance | 8cm (3.15″) |
| Dimensions | 25.5 x 45.2mm |
| Weight | 135g |
This new lens from Venus Optics has an ultra-wide field of view (210°) and obviously a lot of distortion. It almost sees behind itself, and it can be used or 360° panorama photography.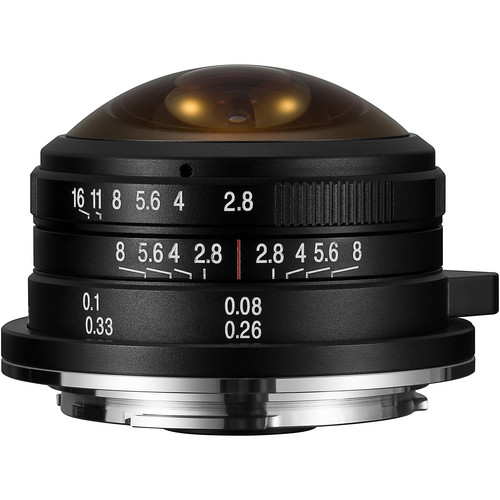 Presenting an immensely wide field of view within a truly compact package, the Laowa 4mm f/2.8 Fisheye provides a huge 210° angle of view for Micro Four Thirds mirrorless cameras. As a circular fisheye, this lens is characterized by its noticeable distortion and bulb-like visual appearance. The greater-than-180° angle of view also enables making full 360° stitched panoramas with just two shots. The lens also sports a bright f/2.8 design for working in available lighting conditions and its manual focus design permits working with subjects as close as 3.1″ away for true close-up shooting. Additionally, the fisheye design retains almost full depth of field when stopped down to f/5.6 for consistent and even sharpness.
Bright f/2.8 maximum aperture is well-suited to working in low and difficult lighting conditions.
Exceptionally wide 210° angle of view along with a circular fisheye design produces a highly distorted image for creative applications as well as the potential to stitch images together for full 360° panoramas.
Manual focus design offers a minimum focusing distance of 3.1″.
Lightweight and small design makes this lens suitable for use on drones as well as being ideal for VR imaging, action sports filming, or virtual tours.
[via DIY Photography]