Laowa Argus 25mm f/0.95 APS-C APO For Canon EF-M and RF Mount Announced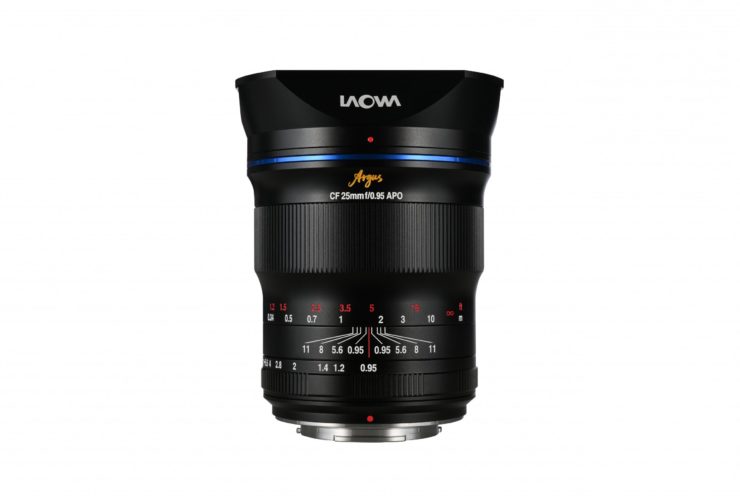 Venus Optics announced a new lens for the Canon EF-M and RF mount, the Laowa Argus 25mm f/0.95 APS-C APO. I wonder why companies continue to make EF-M lenses since some people has already decided that the EOS M system has to be dead. Might those characters be wrong? ;-)
The new Laowa Argus 18mm f/0.95 MFT APO is available at $549 at Laowa online shop.
Press release:
New lenses that capture "The Essence of Light"
Laowa Argus 18mm f/0.95 MFT APO & Laowa Argus 25mm f/0.95 APS-C APO
Anhui China, 25 October, 2022 – Venus Optics, the innovative camera lens manufacturer had already released a series of f/0.95 ultra-large aperture lens under the name "Argus" in last year. And today the company adding two new lenses to the Argus series:
Laowa Argus 18mm f/0.95 MFT APO – MFT
Laowa Argus 25mm f/0.95 APS-C APO – Sony E / Nikon Z / Canon RF / Fuji X / Canon EF-M
The new additions provide MFT and APS-C users with an option of about 35mm equivalent focal length. The ultra-fast f/0.95 on them makes shooting in low-light environments easier than ever and easily creates a dreamy look with the exceptionally shallow depth of field. Both lenses also have the APO design, which performs very well at combating chromatic aberration and provides outstanding sharpness even at wide open. The minimum focusing distances are
20cm and 34cm respectively for the 18mm f/0.95 and 25mm f/0.95. Helping photographers to easily capture close-up details. The two new Argus lenses also design to be video-friendly.
Both have the "Aperture Ring Click Switch" for freely transforming between clicked and de-clicked aperture. A low focus breathing eliminates the distraction of the changes in angle of view when moving the focus from one object to another. The weight of the lenses is 500g(1.1lbs) and 575g(1.26lbs) for 18mm and 25mm respectively. With the affordable pricing
of USD449(18mm) and USD549(25mm), these lenses are a must-have item for both photographers and videographers.
Ultra-fast Aperture of f/0.95
From an eye-catching portrait to stunning low-light photography, an f/0.95 ultra-fast aperture is perfect for creating impactful images with its shallow depth of field. Creating great background separation for the main subject so that the viewers can focus on the essence of your images. The lenses are built to offer an incredible low-light shooting performance. Both lenses can create excellent contrast from centre to corner. Perfect when you get limited time at dark sites or wants to increase the shutter speed.
Equivalent to 35mm Focal Length
A focal length of 35mm (equivalent) is one of the most popular choices among photographers. It is extremely versatile due to the semi-wide but comfortable images produced. Apart from portrait photography, it also works for landscape, street photography and as an everyday lens. Pair with the ultra-fast aperture and the short minimum focusing distance of Argus lenses, photographers can create some really unique shots.
Apochromat (APO) design
Both the 18mm and the 25mm are engineered with an Apochromatic Optical Design (APO) which suppresses longitudinal and lateral chromatic aberration across in-focus & out-of-focus areas. Purple fringing is controlled to the minimum even wide open. The APO design reduces the post-editing time substantially, giving photographers and videographers the best image performance.
Stunning Bokeh and Rendering
The lenses are assembled with 9 aperture blades, which can create round and pleasing bokeh. Alongside the shallow depth of field, it can produce glamorous and dreamy images.
Short Minimum Focusing Distance
The 18mm and 25mm lenses have a minimum focusing distance of 20cm and 34cm respectively. Having a short minimum focusing distance can create an extremely blurry background, allowing the photographer to capture in different perspectives with details of the object. A breath-taking close up shot with shallow depth of field can be easily captured.
Video Friendly
Both lenses are also built with features that would be a plus for videographers.
Aperture Ring Click Switch Mechanism
The Aperture Ring Click Switch Mechanism offers options to photographers and videographers for choosing either clicked or de-clicked aperture ring, a great option for videographers when adjusting the aperture during shooting.
Low Focus Breathing
Both lenses have a relatively low focus breathing. It eliminates the distraction of the changes in the angle of view when moving the focus from one object to another, which is perfect for video shooting.
Internal Focusing
As with other lenses in the Argus series, the two new lenses also have the same internal focusing characteristics. It maximizes the optical performance in both infinity focus and minimum focusing distance. Also, it prevents dust from getting into the lens. And compatible with accessories designed to be set to a specific position like polarizers.