Modula Optical's 33mm f/2 Lens Fuses Classic and Modern Optical Tech for Mirrorless Cameras (EOS M)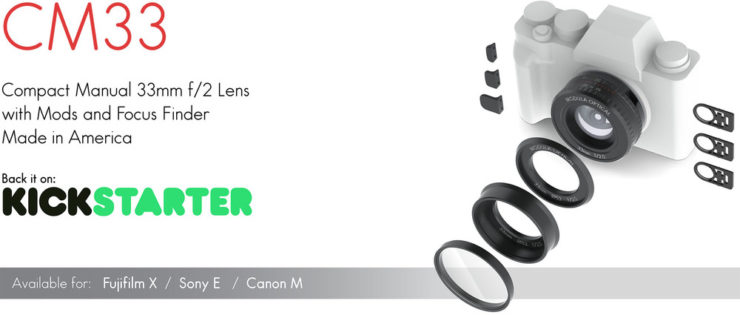 A new lens for mirrorless cameras got a start at Kickstarter, and it's an innovative concept that seems to be pretty interesting.
Modula Optics developed a really unique, pancake-like 33mm f/2 prime lens for mirrorless cameras (Fujifilm X, Sony E, and Canon M) called the CM33. The cool thing about the CM33 is a range of modular upgrade options. The most unique option is what is called "Mods" — special optical elements (filters, lenses, etc.) that can be inserted into the middle of the lens near the aperture stop, rather than screwed on the front ring. This lets you create some really interesting optical effects in a completely "as needed" way, rather than requiring a specialized lens to, for example, get a bokeh apodization effect or well-controlled soft focus effect.
If this cool idea captures your attention, head over to Kickstarter to back up the project. Have a look at the video below for an overview.
Plano, Texas (PRWEB)December 08, 2015
Today Modula Optical introduces the CM33 33mm f/2 lens for mirrorless cameras on Kickstarter. The CM33 brings the best elements of classic manual focus lenses to a modern ultra-compact design that is optimized specifically for today's mirrorless cameras from Fujifilm, Sony and Canon *. The CM33's proprietary optical design offers superb image quality and macro capability in a pancake form factor, and the lens forms the basis of a modular optical platform for a range of add-on optical effects in the form of Mods, as well as usability customizations and adapters.
Focusing the CM33 is unapologetically manual-only. It offers the kind of precision and feel found in great SLR and rangefinder lenses of the past which is lacking with the electronically-controlled manual focus in many of today's autofocus lenses. The CM33 pairs that manual control with its Focus Finder feature: an external switch that holds the aperture fully open to temporarily decrease the depth of field so photographers can pinpoint their desired focus point precisely – a sort of reversal of the typical depth-of-field preview button. Used hand-in-hand with the manual focus aids built into mirrorless cameras, the CM33's focus, aperture, and Focus Finder controls provide quick and robust creative control over captured images.
Alongside the CM33, Modula Optical introduces Mods (patent pending): specialized optical elements mounted in an SD card-sized form factor that can be easily inserted by a photographer into the CM33 to drastically modify the images it captures, on the fly. Inserting certain optical elements this way — near the stop of the lens — allows many optical effects to be achieved uniquely or at better quality than with traditional lens filters. The first Mod being shown uses a proprietary multi-layer engineered diffuser to create a dreamy "soft focus" halo around bright colors and highlights. Getting this quality of effect previously was the domain of a few dedicated specialty lenses, but now it can be added and removed at will.
"We believe there's never been a lens providing this much creative power and flexibility, especially in an inch-long form factor that fits beautifully with compact mirrorless camera bodies," says Matthew Hine, Founder of Modula Optical. "And the CM33 is 'Made in America' in a way that's not just a label for us; it's a comprehensive engineering philosophy that we believe leads directly to the kind of high-performance products we want to build."
Modula Optical's engineers have already spent over a year developing the CM33 and they are excited to reveal it in prototype form to the world today. A Kickstarter campaign to support volume production of the CM33 runs through Feb. 5 2016, with deliveries to backers expected to start around September if the campaign goal is met. Lenses on Kickstarter are being offered to backers at a significant discount from expected retail pricing in thanks for their support.
CM33 Kickstarter campaign page: https://www.kickstarter.com/projects/modulaoptical/cm33-compact-manual-focus-lens-for-mirrorless-with
CM33 Technical Specifications:
Focal length: 33mm on APS-C (50mm full frame equivalent)
Maximum aperture: f/2.0
Lens construction: 5 elements in 4 groups (plus plano Mod pathlength corrector lens)
Minimum focus distance: 5.5 inch (140mm), 0.25x magnification
Horizontal field of view: 39°
Dimensions: Length 1.0 inch (26mm), Diam. 2.4 inch (61mm)
Filter thread: Ø52mm, with filter adapter
Compatibility: Fujifilm X / Sony E / Sony FE (APS-C mode) / Canon M *
About Modula Optical:
Modula Optical creates excellent optical products for professionals and enthusiasts through comprehensive engineering development, maximized in-house manufacture and assembly, and close collaborative relationships with high-quality technology suppliers. Modula Optical was incubated by a small group of engineers at Brass Roots Technologies – a Skunkworks-style R&D company in Plano, Texas gathering together years of experience with optical systems in the cinema, military, automotive, medical, and consumer fields.
Further information can be found at: http://www.modulaoptical.com
Modula Optical, CM33, Mods, and Focus Finder are trademarks of Modula Optical LLC.
Fujifilm, Sony, and Canon are registered trademarks of their respective owners.
###
If you'd like more information about Modula Optical or the CM33, or to schedule an interview with Matthew, please email hine(at)modulaoptical(dot)com.