New Schneider-Kreuznach Xenon Primes Designed For 4K (2.1/35, 2.1/50 and 2.1/75)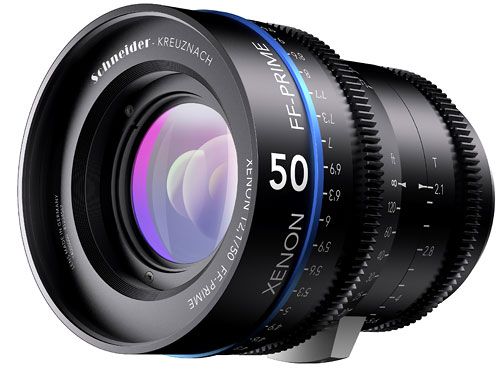 They have been announced in 2012, now there is new information about the three cinema lenses Schneider-Kreuznach is going to release in the second half of 2013. Previously, a 2.1/25mm was announced, now it appears it has become 2.1/35mm. The lenses are designed for full-frame cameras and for 4k resolution gear. Canon mount will be available.
The press release (machine translated):
BAD KREUZNACH, 02 April 2013Schneider-Kreuznach starts with a brand new full-frame lens series "Xenon full frame prime lenses". It is designed specifically for DSLR cameras with full frame sensors to capture video and can also be used for professional cine cameras. From the second half of 2013, the lenses will be available.
The series includes an initial three prime lenses: T2.1/35mm, T2.1/50mm and T2.1/75mm. All lenses can be connected to the corresponding F-and EOS-bayonets, not only to the full-frame DSLR cameras from Nikon and Canon, but also to the professional film cameras with a PL mount. The product range will be expanded soon to wide angle and telephoto focal lengths.
"The full-frame series is specifically designed for full-frame sensors and meets the rigorous requirements of the users with respect to optical performance and usability," said Daniela Kesselem, Product Manager at Schneider-Kreuznach. The lenses are equipped at all focal lengths on a coordinated uniform color reproduction. Whether commercial or feature film, the xenon full frame Primes offer filmmakers in every situation the performance and reliability.
The full-frame lenses are designed for 4K resolution (4096 x 2304 pixels). Professional cine standard accessories such as Riggs with follow focus and matte box can be used with lenses. The features needed specifically for films such as minimized Breathing, harmonious bokeh and flare minimization are optimized with the xenon full frame prime lenses.
Additional product features of all xenon full frame Primes:
• All lenses have the same maximum aperture of T2.1 and the same dimension and the same position of the controls.• A circular aperture with 14 blades ensures a harmonious bokeh.• Robust cine-style mechanics• Manual, precise and reproducible distance setting with 300 ° angle of rotation• Splayed focus scale for easy focus adjustment even at great distances, both sides read• M95 filter thread• Interchangeable bayonet connection
[via photoscala.de]