New Tokina Cinema AT-X Lenses Available For Pre-Order (16-28mm and 11-16mm)
Tokina Cinema AT-X 16-28mm T3.0 (left) and Tokina Cinema AT-X 11-16mm T3.0 (right)
Adorama has Tokina's new Cinema AT-X lenses available for pre-order. Both lenses are expected to ship April 2014.
Product description and specifications after the break.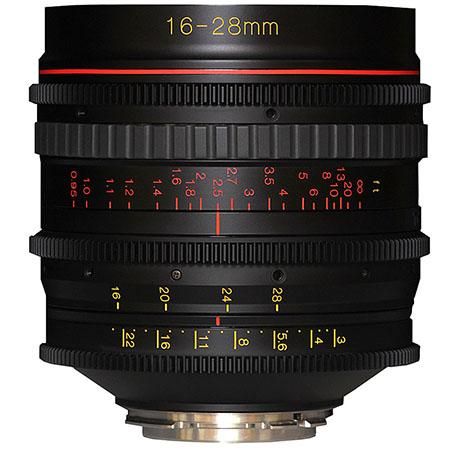 Full frame super-wide 16-28mm lens
Fast T3.0 aperture
4K approved
LDS (Lens Data System) support is possible.
Common 114mm front diameter for matte boxes
Minimum focus distance of 11.03″
Built around the highly innovative Tokina AT-X 16-28mm F/2.8 FX full frame optical design, the NEW Tokina Cinema AT-X 16-28mm T3.0 brings its award-winning performance into the film making arena. Tokina rehoused these superior optics in an all new cinema housing that provides geared manual focus control with an easy to read distance scale, geared zoom ring, and a de-clicked aperture with 9 curved blades that yield beautiful out of focus highlights while reducing the chance of diffraction at small apertures.
To deliver the results that working professionals demand, Tokina incorporated 3 Aspherical lens elements and 2 Super-low dispersion glass elements in the optical design to achieve excellent contrast and sharpness with minimizing lens flare, diffraction, and ghosting. The lens has an industry standard 114mm front diameter for attaching a variety of matte-boxes.
| | |
| --- | --- |
| Maximum Aperture | T/3 (f/2.8) |
| Minimum Aperture | T/22 |
| Optical Construction | 15 Elements/13 Groups |
| Coatings | Multi-Layer |
| Angle of View | 107.11 – 76.87° (Based on 35mm Full Frame Sensor) |
| Zoom Ratio | 1.75:1 |
| Minimum Focus Distance | 11.03″ / 28cm |
| Zooming System | Rotary Zoom |
| Number of Diaphragm Blades | 9 curved blades |
| Filter Size | 112mm |
| Dimensions | 4.49″D x 5.67″L / 114mm x 144mm |
| Weight | 52.91 oz / 1500g |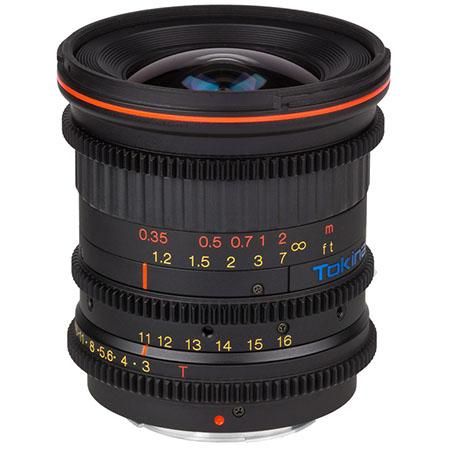 Super-wide angle T3.0 zoom lens (APS-C)
Proven and Award Winning Tokina optical design
Rugged All-Metal lens housing
Geared Focus, Aperture, and Zoom rings
4K approved
Super 35 and APS-C coverage
Minimum focus distance of 13.8″
Developed around the original, award-winning Tokina 11-16mm f/2.8mm DSLR camera lens, the NEW Tokina Cinema AT-X 11-16mm T3.0 brings its superior optical performance and distortion free optical design to professional and independent film making. Tokina engineers developed a special all-metal cinema housing that provides geared manual focus control with easy to read distance scale, a de-clicked aperture ring for smooth iris pulls, and zoom ring for use with remote control systems.
Built to meet the demanding needs of hard working cinematographers, the Tokina 11-16mm T3.0 utilizes 2 Super-low Dispersion and 2 Aspherical lens elements to achieve excellent contrast and sharpness while minimizing flare and ghosting. A bayonet mount, petal-type lens hood is also included.
| | |
| --- | --- |
| Maximum Aperture | T/3 (f/2.8) |
| Minimum Aperture | T/22 |
| Optical Construction | 13 Elements/11 Groups |
| Coatings | Multi-Layer |
| Angle of View | 104 – 84° (With APS-C sized image sensor) |
| Zoom Ratio | 1.45:1 |
| Minimum Focus Distance | 13.78″ / 35cm) |
| Reproduction Ratio | 1″4.94 |
| Zooming System | Rotary Zoom |
| Number of Diaphragm Blades | 9 |
| Filter Size | 77mm |
| Dimensions | 3.31″D x 3.82″L / 84mm x 97mm |
| Weight | 23.99 oz / 680g |