Nikon Announces Retro Looking Nikon Z fc Mirrorless Camera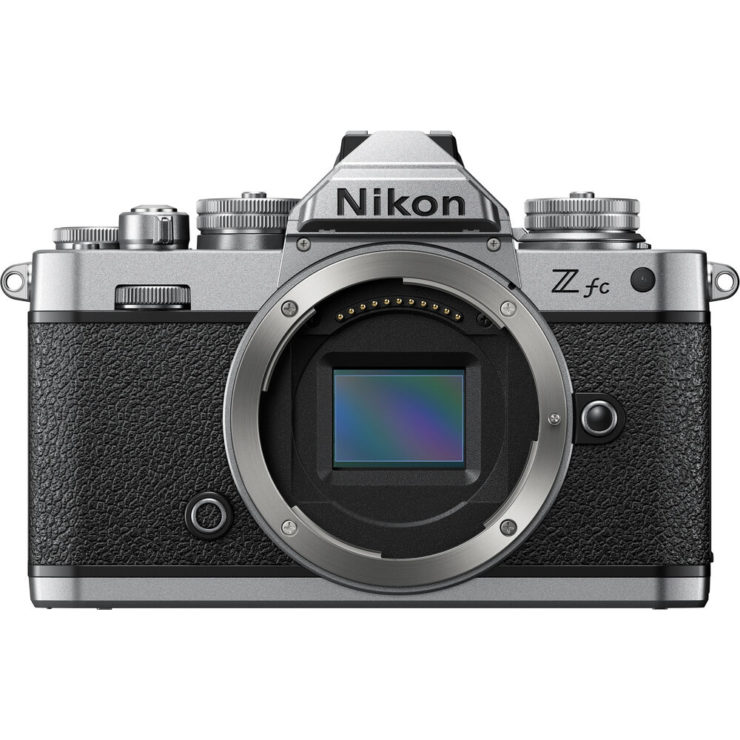 No Canon EOS R3 today, but Nikon released a new mirrorless camera with APS-C sensor, the Nikon Z fc.
At a glance:
20.9MP DX-Format CMOS Sensor
EXPEED 6 Image Processor
UHD 4K and Full HD Video Recording
Eye Autofocus
Built-In Wi-Fi
USB Type-C Connectivity
Preorder are available starting at $965.95:
America: B&H Photo, Adorama, Amazon USA, Amazon Canada, Canon Canada, Canon USA
Europe & UK: Amazon DE, Amazon UK, Amazon IT, Wex Photo Video, Canon DE, Canon UK

Nikon press release:
Nikon releases the Z fc DX-format mirrorless camera
A heritage-design model that further enhances the joy of shooting and ownership
TOKYO – Nikon Corporation (Nikon) is pleased to announce the release of the APS-C size (Nikon DX-format) Nikon Z fc mirrorless camera, as well as two lenses: a silver-color variation of the standard zoom NIKKOR Z DX 16-50mm f/3.5-6.3 VR lens, and the prime NIKKOR Z 28mm f/2.8 (SE) special edition lens for which a heritage design that matches the Z fc body has been adopted.
Details regarding the NIKKOR Z 28mm f/2.8 (SE) can be found in the following press release, issued today: https://www.nikon.com/news/2021/0629_lens_02.htm
The Z fc is the first Z-series camera to adopt a heritage design, while simultaneously supporting various advanced features. In addition to the enjoyment of shooting great stills and videos, it is designed with particular attention paid to delivering the pride and joy of ownership. Its compact, lightweight body is highly portable but packs superb operability and rendering capability, making it easy to handle even for first-time mirrorless camera users.
The Z fc's exterior adopts a heritage design inspired by the iconic Nikon FM2 SLR film camera released in 1982. It features a Nikon logo from the 1970-80s as well as a body size and dial positions that are similar to the FM2. It also incorporates a circular eyepiece, and three dials and a display panel on the top body: the passion of this heritage design is present everywhere. Furthermore, two lenses that match the Z fc's heritage style will also be released.
The letter "f" in the Z fc's name is a reference to models with symbolic importance in Nikon's history, while also being inspired by the word "fusion," representing the coming together of tactile precision mechanics and high image quality. The letter "c", meanwhile, conveys Nikon's wish for this camera, with all its inherited tradition, to be used by anyone, anywhere, "casually".
Nikon will continue to pursue a new dimension in optical performance while meeting users' needs, contributing to the development of imaging culture, with the hope of expanding possibilities for imaging expression.
Primary features
1.A heritage design inspired by the iconic Nikon FM2 camera The Z fc's pentaprism design and body size, as well as the balance between the black and silver-color elements on the Z fc's body, are inspired by Nikon's legendary FM2 SLR film camera. Furthermore, a circular eyepiece has been adopted for the electronic viewfinder (EVF), in addition to details such as the design of the dials and the inscribed Nikon logo bearing similarities to the FM2's. The Z fc simultaneously achieves reliable robustness by employing magnesium alloy.
In addition, users can choose to customize the color of their Z fc body from the six Premium Exterior color options*, enabling users to personalize their camera to further match their individual style.
2.Simple operation that enables the crafting of the intended image The top of Z fc's body features three dials and a small window that displays the aperture. The dials control shutter speed, exposure compensation and ISO sensitivity, allowing setting changes with simple operation. Together with the small window that displays the aperture, users are able to confirm the four basic settings for image-making at a glance and adjust them easily. Also, the i button and i menu support efficient shooting, by allowing quick adjustment of a variety of settings with the press of a button.
For the first time in a Nikon Z series camera, the Z fc supports exposure compensation during AUTO mode, enabling users to achieve their desired expression by increasing brightness, enhancing silhouettes, etc. even while using AUTO mode. The camera also features 20 Creative Picture Control options that deliver unique expressions. By selecting themes with different parameters such as hue, toning and saturation, anyone can express a diverse variety of atmospheres, while confirming the final image in real time through the monitor or electronic viewfinder (EVF) before shooting. Additionally, users can adjust effects according to their taste, expanding the range of creative expression.

3.Convenient functions and performance that realize the desired expression The Z fc supports Eye-Detection AF and Animal-Detection AF with the shooting of stills and video, features introduced on the full-frame mirrorless cameras Nikon Z 7II and Nikon Z 6II. The wide-area AF (L) AF-area mode is supported, further ensuring the capture of eyes and faces by limiting the focusing area. As well as this, continuous focus on the eyes of the intended subject when there are several people or animals in the frame, or tracking the eyes of a pet that's moving around is also achieved.
The capture of clear stills and videos in dark situations is made possible by covering a wide standard sensitivity range of ISO 100-51200*. Additionally, shooting from high angles, as well as vertical shooting from low angles, is enabled with the adoption of the first vari-angle monitor among Z series cameras. When the monitor is rotated to the front, the camera automatically switches to self-portrait mode, providing smooth selfie shooting through touch operation.

*Expandable up to ISO 204800. The maximum standard sensitivity for video recording is ISO 25600.



4.Support for the SnapBridge app, featuring two automatic connection modes The SnapBridge app can be used to transfer photos and videos recorded with the camera to a smart device*, making it easy for users to share them on social media. The latest camera firmware can also be obtained through the app. The latest Snapbridge Ver. 2.8 supports two automatic connection modes: foreground mode and background mode. The foreground mode connects with the camera only when the app is used, reducing camera battery consumption. The background mode features a constant connection, transferring images automatically even when the smart device is in sleep mode, and is similar to the conventional Snapbridge function.

*iPhone®, iPad®, and Android™ devices to which the SnapBridge app has been installed can be used. The SnapBridge app can be downloaded free of charge from the App Store® and Google Play™. See Nikon's website for further information.



5.Additional features

A natural view with minimum aberration is achieved with the electronic viewfinder (EVF) that employs an organic EL panel
Video recording supporting 4K UHD without crop using the DX-based movie image area
Supports Full-time AF (AF-F) dedicated for video recording
Slow-motion video shooting is made easy by simply selecting an image size and frame rate
Supports Webcam Utility, software that enables the Z fc to be used as a web camera
Product package and accompanying camera strap that match the Z fc's heritage style
Supports USB power delivery with the camera turned on as well as USB charging