Panasonic tries to poke fun on Canon EOS M3, gets facts wrong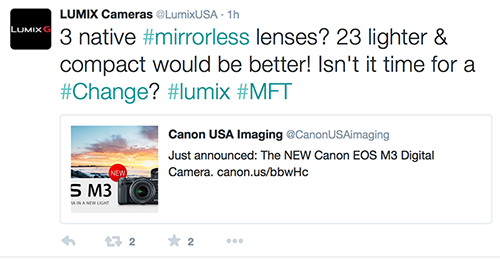 Obviously scared by Canon's EOS M3 announcement for the USA, Panasonic is trying to discredit Canon the same way as their fan sites do.
Unfortunately for Panasonic, they got it wrong. There are four native lenses for the EOS M system, not three. Not that four lenses would make a big difference. It's still an ecosystem that's not tempting. However, it is also true that you can use the EF/EF-S to EF-M adapter. The adapter works petty good. In my experience, AF speed on the EOS M3 with adapter and STM lenses is barely distinguishable from AF on native lenses.
Moreover, we had a rumor suggesting that Canon will release a score of EF-M lenses in 2016. Guess there are many things that are scaring Panasonic :-) It's in any case sad to see that a big company like Panasonic feels the need to discredit another company. Only 23 lenses, Panasonic? I can use over 70 on my M3 (with adapter).
The Canon EOS M3 will be available in the USA in early October 2015. US customers can already place pre-orders.
EOS M3 kits:
All EF-M lenses will soon be available in the USA, a silver version of the EF-M 22mm f/2 is introduced:
[via
43 Rumors
]