Photographer Takes A Picture A Day For A Year (using Canon gear)
Last year photographer Ridwan Adhami (www.ridzdesign.com) set out to shoot a photograph every single day and post it online with a story attached. He ended up shooting every day of last year with Canon products.
Using Canon camera gear, he was able to complete the project and maintain the utmost of quality no matter what camera or lens he was using. Ridwan used a EOS 7D (price & specs) as primary camera and the EF 16-35mm f/2.8L II USM (price & specs) as his main lens.  When the lens took a dive and was split in half, he was forced to move to the Canon G11 point and shoot as a backup.
In addition there has been a handful of days using a Canon EOS 5D Mark III (price & specs) when on assignment, as well as a EOS 60D (price & specs) that he ended up borrowing while the camera and lens where being repaired. Regardless of what camera or lens combo being used, Canon products from the entire range allowed superior control and resulting in amazing image quality across the board.
Now that the year is done and all the images have been posted, Ridzdesign will be creating a coffee table photo book documenting the entire year as well as highlighting camera details and shot information. It will not just be an art book but a reference guide for photography students on the different techniques used to take the variety of images.
Here is the Kickstarter campaign page for the upcoming book: http://www.kickstarter.com/projects/ridzdesign/ridzdesign-366-a-photo-a-day-2012-limited-edition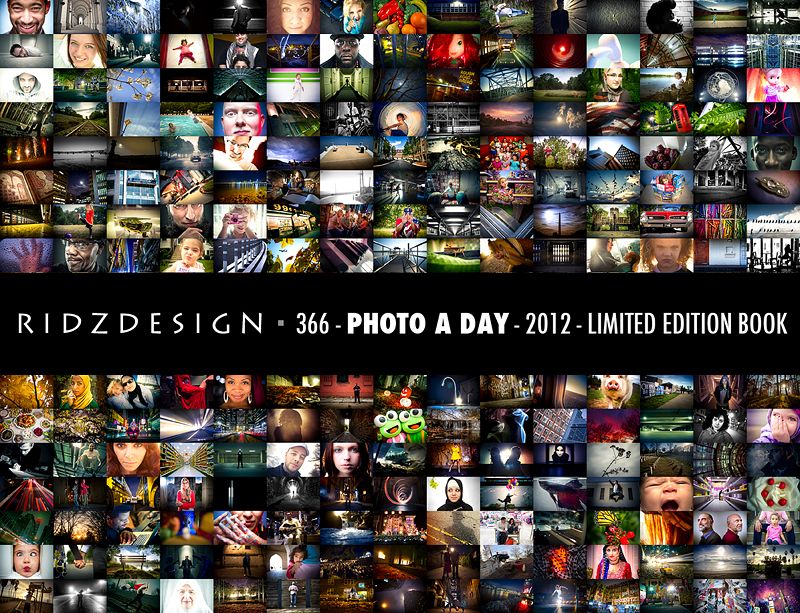 Below is the full list of cameras and lens that ended up being used in this project (you can click on the shopname to see the specs and the price in your country:
Cameras: 
Canon EOS 7D: Amazon DE, Amazon UK, Amazon IT, Canon IT, WEX Photographic, Canon FR, Canon UK, Canon DE Canon EOS 5D Mark III: Amazon DE, Amazon UK, Amazon IT, Canon IT, WEX Photographic, Canon FR, Canon UK, Canon DE Canon EOS 60D: Amazon DE, Amazon UK, Amazon IT, Canon IT, WEX Photographic, Canon FR, Canon UK, Canon DE Canon PowerShot G11: Amazon DE, Amazon UK, Amazon IT, Canon IT, WEX Photographic, Canon FR, Canon UK, Canon DE
Lenses:
Canon EF 16-35mm f2.8 L: Amazon DE, Amazon UK, Amazon IT, Canon IT, WEX Photographic, Canon FR, Canon UK, Canon DE Canon EF 100mm f2.8 L Macro: Amazon DE, Amazon UK, Amazon IT, Canon IT, WEX Photographic, Canon FR, Canon UK, Canon DE Canon EF 50mm f1.2 L: Amazon DE, Amazon UK, Amazon IT, Canon IT, WEX Photographic, Canon FR, Canon UK, Canon DE Canon EF 50mm f1.4 USM: Amazon DE, Amazon UK, Amazon IT, Canon IT, WEX Photographic, Canon FR, Canon UK, Canon DE Canon EF 50mm f1.8 II: Amazon DE, Amazon UK, Amazon IT, Canon IT, WEX Photographic, Canon FR, Canon UK, Canon DE Canon EF 18-200mm f3.5-5.6 IS: Amazon DE, Amazon UK, Amazon IT, Canon IT, WEX Photographic, Canon FR, Canon UK, Canon DE Canon EF 70-200mm f2.8 IS II: Amazon DE, Amazon UK, Amazon IT, Canon IT, WEX Photographic, Canon FR, Canon UK, Canon DE
Flashes:
Canon Speedlite 430EXII: Amazon DE, Amazon UK, Amazon IT, Canon IT, WEX Photographic, Canon FR, Canon UK, Canon DE Canon Speedlite 580EXII: Amazon DE, Amazon UK, Amazon IT, Canon IT, WEX Photographic, Canon FR, Canon UK, Canon DE