[Rumor] Are These The EOS 3DX Specs? (more supposed details leaked, a mini 1DX?)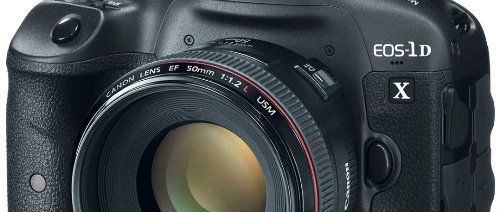 CR broke the news a few minutes ago:
Canon EOS-3D X Specifications

46 MP
3.7 frame per second
Dual DIGIC 5+
ISO: (25) 50-6400 (12800)
AF: Same as 1DX
USB 3
CF+SD

Another feature mentioned about the camera is better heat dissipation of the sensor compared to other EOS cameras. Apparently, this results in industry leading low ISO performance.
Here at CW we got a similar rumor (thank you), and we are also taking it with a grain of salt. The rumor overlaps with the reported specs and adds some details about the shaping of the camera body. I quote the source (emphasis mine):
Its a new type of body, looks like a mini 1DX, it has a integrated portrait grip but its a bit thinner and significantly shorter and also lighter (no rear lcd panel)
I like the "looks like a mini1DX" part. :-) I also got some details about the heath issue. To achieve an outstanding low ISO image quality the sensor is said to get much less hot than sensors on other Canon DSLRs. Seconding the source is has to do with the
amplification signal value that [has] changed in this camera
Image quality at ISO 50 is said to be the cleanest, sharpest and smoothest [ever seen]. On the other hand, IQ at ISO 1600 seems to be not so exciting. And yes, the rumored camera should show up at Photokina.
If this rumor is true, then Canon would fit the EOS 3DX between the EOS-1D X (in stock here) and the EOS 5D Mark III. However, be aware that Canon 3D rumors are coming and going since some years. And the price? No hints. Not sure if it would cost less than the EOS-1D X. Photokina is close and we soon will know. The other possible big thing at Photokina could be a more pro-oriented mirrorless camera. With the EOS M Canon has shown that it can do it, that it has the needed technology and the know how.