More Rumors About Samyang's Announcement On April 28th (35mm AF lens for Canon?)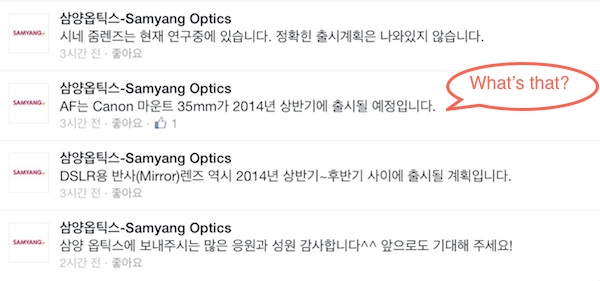 Yesterday Samyang teased us on Facebook with an image saying:
The second Step of Samyang Optics in 2014. Samyang Optics invites you to join the journey to the next level of creativity on April 28th 2014. We hope you to enjoy our proud new products.
My guess is Samyang might announce a new line of auto-focusing lenses. This was rumored in the past. But today there is more to speculate about.
Dicahub (translated) did some research and found a few interesting things. It seems that some comments to the teaser have been deleted from Samyang Korea's Facebook page. Fortunately, someone made screenshots an posted it to forums (here and here, both in Korean). If you think the image is a fake consider that two different screenshots have been posted to two different forums.
If you look at the picture above, you can see that the comments we are talking about have been made not by users, but by Samyang itself (i.e. Samyang's FB administrator). The second line in the pic refers to a 35mm auto-focusing lens for Canon (or am I wrong?). Did Samyang inadvertently leak information they had to delete afterwards?
Dicahub has more rumors about Samyang to report:
It's a few years that Samyang is discussing an AF lens for Nikon.
It appears to be pretty plausible that Samyang might announce lenses that support electronic contacts on Canon mounts (at least aperture). I am not sure if I lost something in translation, the rumor mentions a "support for Canon A contact"
Lighter and more compact lenses are also on the radar
Mid telephoto lenses with brighter aperture might also be planned
Apparently the process of  implementing AF in Samyang lenses is slowed down by licensing issues (with both Canon and Nikon).
[via 
Dicahub
]