Sea & Sea Announce Canon EOS 5D Mark IV underwater housing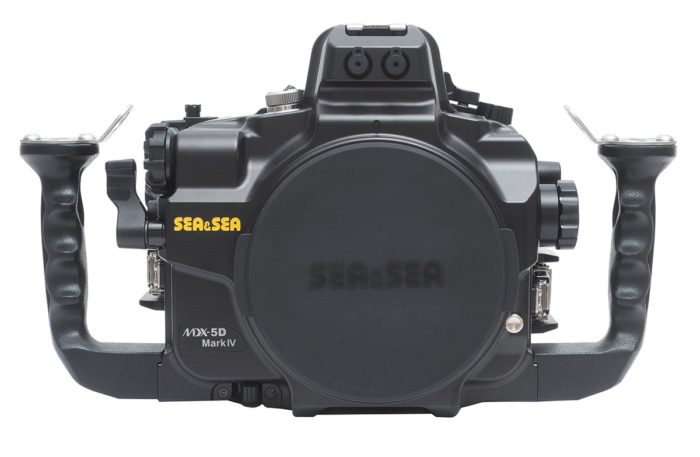 At a glance:
Construction: Corrosion-resistant aluminum alloy (machined, anodized finish)
Grip: Corrosion-resistant die-cast aluminum alloy
Depth Rating: 100m/330ft
Dimensions (WxHxD): 341 x 198 x 141mm /13.4 x 7.8 x 5.5 inches
Weight (Approx.): 3,000g/106oz (Housing only)
Sea & Sea announced an underwater housing for the Canon EOS 5D Mark IV. The housing fits also an EOS 5D Mark III, EOS 5Ds and EOS 5Ds R. Reccomended price is $3,899.95, shipping to start soon.
Press release (via Dive Photo Guide):
U/W Housing for Canon EOS 5D Mark IV / EOS 5D Mark III
Housing satisfies even professional needs with its superior ergonomic design and ruggedness
MDX-5D Mark lV housing (black) (housing only) (Product No.06181)
Relevant Information
The MDX-5D Mark lll and the MDX-5D Mark lll ver. 2 housings can be converted to accommodate both the EOS 5D Mark lV and the EOS 5D Mark lll (fees apply).
Features
Important controls can be operated whilst holding the grips. Frequently-used buttons such as ISO, AF Point Selection and Multi-function Selection buttons are operated by external levers, allowing quick and accurate operation.
The main command dial, the quick control dial and others have a damper (spring) to provide secure operation. (Controls on the camera will not slip because of the damper).
The tension on the Shutter Release lever can be adjusted in 3 steps
Compatible with Optical YS Converter/C.
Tripod screw mount is located on the centre underside of the housing.
Built-in leak sensor immediately alerts you to water ingress.
Equipped with two sacrificial zinc diodes (one on the front case and the other on the rear) to prevent electrolysis damage.
Accessory port enables use of Leak Sentinel (vacuum sensor).
Sync Cord 2-pin Connector enables use of conventional hardwired Sync cable (Manual mode only).
Equipped with the Optical Viewfinder 0.5x as standard. Other optional viewfinders such as the VF180 1.2x, VF45 1.2x and Optical Viewfinder 0.8x can be used.
All controls have luminescence stickers which glow in dark environment.
Pulling out the Focus/Zoom Dial gives sufficient room inside the housing to easily accommodate larger diameter lenses.
The camera's diopter adjustment dial can be operated from outside the housing. This feature is useful when two or more people with different eyesight use the housing.
The housing is equipped with a lens-lock release button which makes it possible to change lenses easily, without opening the housing.
The Port Lock prevents the port from turning or loosening and the Port Lock lever is specifically located to avoid being unlocked accidentally.