Sigma 18-35mm F/1.8 Deal – $499 (reg. $799, limited time)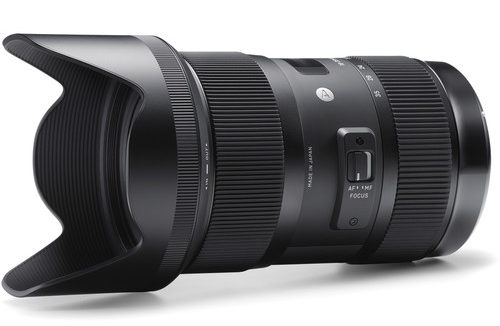 Only for limited time (exp. 6/16/2020) authorized retailer Adorama has an excellent Sigma 18-35mm F/1.8 deal.
Get the Sigma 18-35mm F/1.8 DC HSM ART on sale at $499. Compare at $799. Free shipping.
Sigma 18-35mm F/1.8 deal key features:
Lens Mount: Canon EOS
Zoom Focal Length: 18-35mm Lens
Lens Format: APS-C / DX
Maximum Aperture: f/1.8
Lens Type: Wide Angle Zoom SLR Lens
Image Stabilization Type: No
Lens Series: Sigma ART Series Series, Sigma DC Series
Special Features: Aspherical
The Sigma 18-35mm f/1.8 DC HSM Lens for Canon is a wide-angle to normal-length zoom lens that features a fast, bright constant f/1.8 maximum aperture. It is specifically designed for use with APS-C-sized sensors and provides a 35mm-equivalent focal length range of 28.8-56mm.

The lens integrates one aspherical element into its construction as well as Special Low Dispersion (SLD) glass to help minimize various aberrations and distortions throughout the zoom range as well as provide greater image sharpness and clarity. A Super Multi-Layer Coating has also been applied to lens elements to reduce surface reflections, lens flare and ghosting to produce images with higher contrast and color fidelity. The lens barrel design is constructed from a Thermally Stable Composite (TSC) material that is akin to metal in texture and resistance to temperature and environmental changes while also remaining lightweight and compact. An internal focusing and zooming mechanism also helps to maintain a compact and consistent overall length and non-rotating front ring also better enables the use of circular polarizing filters. For control of focus, a Hyper Sonic Motor (HSM) is used to ensure fast, precise and quiet focusing capabilities that are well suited to continuous shooting and movie recording.

For updating lens firmware and fine-tuning its nuances to best suit your personal shooting, this lens is compatible with the Sigma USB Dock. The dock allows you to specify certain parameters and other settings through the Sigma Optimization Pro software, such as AF speed and focusing limitations.
Sigma 18-35mm F/1.8 Features
This lens is part of Sigma's Art line; deeming it well-suited to creative image making due to its large, constant f/1.8 maximum aperture and ability to produce aesthetic bokeh by way of a nine-blade circular diaphragm
One aspherical lens element, as well as the incorporation of SLD glass, help to minimize the appearance of distortions and aberrations throughout the zoom range and provide clear imagery with enhanced sharpness
The Hyper Sonic Motor provides fast, quiet and smooth auto focusing that is well-suited for use with video applications. This AF motor can also be manually overridden at any time by rotating the focusing ring, giving you the ability to fine-tune image sharpness through manual focusing
Constructed using a TSC compound material, this lens is lightweight while also exhibiting notable durability and resistance to environmental changes
An internal focusing and zooming mechanism helps to maintain a consistent overall lens length and a non-rotating front ring facilitates more efficient use of circular polarizers
Compatible with Sigma's USB Dock and Sigma Optimization Pro software for fine-tuning your lens' performance, updating its firmware and better suiting it to your needs