Sigma 24-105mm f/4 DG OS Review (camerastuffreview)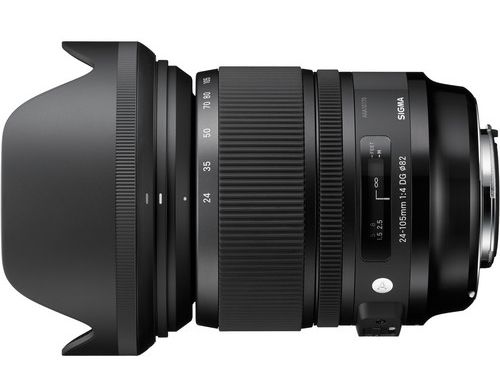 Sigma 24-105mm f/4 DG OS HSM
[shopcountry 17019]
camerastuffreview reviewed the Sigma 24-105mm f/4 DG OS HSM lens, Sigma's latest addition to the "Art" line-up (in stock since a few days at B&H for $899). The lens comes with a pouch and a flower-shaped lens hood, and is highly regarded by reviewer for its build quality and optical performance, not to mention the price tag that makes it affordable for non pros. The Sigma 24-105mm f/4 DG OS HSM is a modern looking lens with great optical properties and build quality that beats the Canon EF 24-105mm f/4L IS USM lens (according to the reviewer).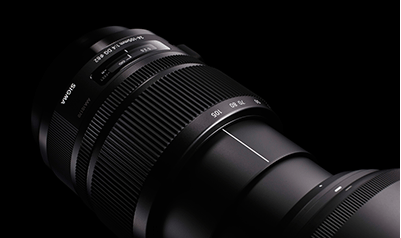 About build quality:
The Art series lenses are so solidly built that they withstand comparison with the best professional lenses. If you put the Canon 24-105 mm f/4 L next to the Sigma 24-105 mm, the Sigma looks more modern. You also notice that the Sigma lenses looks more professional, and is more heavily built.
About Image stabilization:
We tested the image stabilization (OS) at a focal length of 105 mm. The image stabilization turned out to be not only very quiet, but also effective. The Imatest measurements showed that a picture taken by hand at a shutter speed of 1/200 was slightly less sharp than a picture made at a shutter speed of 1/25 second using the built-in image stabilization.
From the conclusion:
The Sigma 24-105 mm f/4 Art in image quality does as well as the Canon EF 24-105 mm L. The Sigma Art wins on points over the professional Canon L lens. At the longest focal lengths, the sharpness of the Sigma is higher and the bokeh is a bit higher than the Canon. Distortion and vignetting are both clearly visible and are best corrected in Photsohop or Lightroom.
The reviewer underlines the pros of the Sigma:
Universal zoom lens for full frame with good image quality
Good image stabilization
Little flare, no ghosts
Build quality of the highest level
AF tuning with USB dock possible
Mount conversion (for an additional fee) possible
See also Sigma's page about the 24-105mm lens.
[via camerastuffreview]
Specs (copied from B&H's product page)
Performance
Focal Length
24 – 105 mm
Comparable APS-C 1.6x Focal Length: 38 – 168 mm
Aperture
Maximum: f/4
Minimum: f/22
Camera Mount Type
Canon EF
Format Compatibility
Canon (APS-C)
35mm Film / Full-Frame Digital Sensor
Angle of View
84.1° – 23.3°
Minimum Focus Distance
17.7″ (44.96 cm)
Maximum Reproduction Ratio
1:4.6
Groups/Elements
14/19
Diaphragm Blades
9
Features
Image Stabilization
Yes
Autofocus
Yes
Tripod Collar
No
Physical
Filter Thread
Front: 82 mm
Dimensions (DxL)
Approx. 3.5 x 4.3″ (8.89 x 10.92 cm)
Weight
31.2 oz (885 g)