Sigma 35mm f/1.4 Review (The Digital Picture)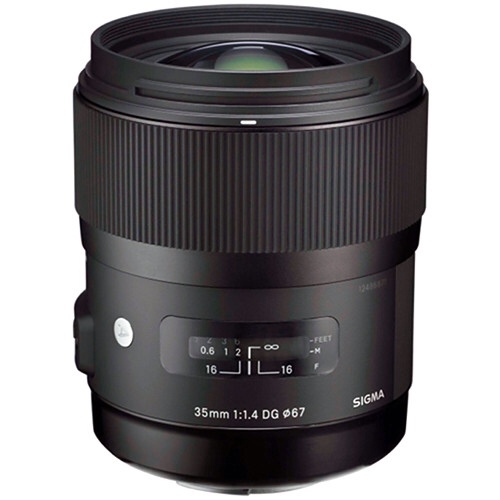 The Digital Picture reviewed the Sigma 35mm f/1.4 (price & specs), a lens highly appreciated also by other reviews. About Sharpness:
The Sigma 35mm f/1.4 EX DG HSM Lens is an impressively sharp lens – with very sharp center and mid image circle results even at a wide open f/1.4 aperture. Full frame f/1.4 peripheral image circle results are still quite good, but softer than the center results. Results are slightly sharper at f/2, but the clearing vignetting is the biggest difference noticed by stopping down. Don't expect center-of-the-frame image quality to noticeably improve by stopping down beyond f/2. Corners slowly improve until becoming very impressively sharp at f/5.6.
About image quality:
The impressiveness of the Sigma 35mm f/1.4 EX DG HSM Lens' image quality becomes most apparent when comparing the results to the other great 35mm lenses. I have not used a lens of any focal length (Canon, Nikon, Zeiss, …) that delivered better/sharper image quality at f/1.4. This comparison of course includes the also-impressive Zeiss 35mm f/1.4 Distagon T* ZE Lens and the Canon EF 35mm f/1.4 L USM Lens.
About auto-focus:
While it is not perfect, I'm finding the Sigma 35 to perform close to the Canon 35 L in AF accuracy. A somewhat consistent and quite noticeable front focus problem on both of my 5D Mark III bodies required AFMA to correct. You may want to capture multiple images in situations with especially shallow DOF – which will be closer to MFD (Minimum Focus Distance). Note that the focus-and-recompose technique can begin to fail as shallower DOF is achieved.
And finally:
I think that the Sigma 35mm f/1.4 EX DG HSM Lens is my new favorite Sigma lens. Perhaps the "A" plate on the barrel represents this lens' report card grade average, showing that it has brains to go along with the great looks.
There is much more in The Digital Picture's review, lot's of details, so be sure not to miss it.
Sigma 35mm f/1.4 price check: B&H Photo, Adorama, Amazon USA, Amazon Canada, Canon Canada, Canon USA