Sigma Patent For 28-85mm OS Lens For Mirrorless Cameras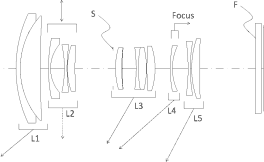 Will there soon be another lens for the EOS M system? The patent was spotted by Egami (translated).
At least Sigma is working on an image-stabilized 28-85mm f/3.5-5.6 lens for APS-C mirrorless systems. Exciting news, though I am a bit puzzled because of the 28mm – rather unusual for a crop sensor camera.
Patent Publication No. 2014-44246

Publication date 2014.3.13
Filing date 2012.8.24

Example 1

Zoom ratio 2.84
Focal length f = 29.01-50.00-82.48mm
Fno. 3.63-4.59-5.78
Angle of view 2ω = 53.08-31.21-19.16 °
Image height Y = 14.20mm
92.04-103.13-116.62mm overall length of the lens
Inner Focus (Group 4)
Anti-vibration (group 2)