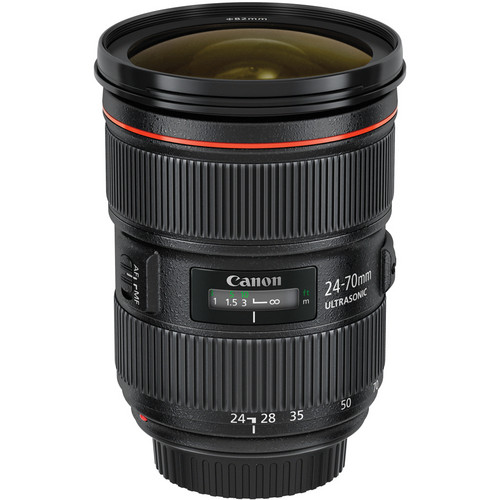 The Canon Professional Network (CPN) published an interview with photographer Jeff Ascough. The talk is about the new Canon EF 24-70mm f/2.8L II lens (price & specs). A lens that has outstanding optical performance and a rather hefty price tag.
Over the past few months Canon Ambassador Jeff Ascough has been photographing weddings in his distinctive documentary style, primarily with a Canon EOS 5D Mark III DSLR teamed with the EF24-70mm f/2.8L II USM zoom lens. He spoke to CPN about his experiences shooting with the latest incarnation of an already much-loved standard zoom lens; one that is smaller, lighter, more durable and optically more sophisticated than its predecessor.
The lens is actually sold for around $2050 (Amazon, B&H Photo, Digitalrev, eBay, Adorama, Canon USA, rent it here). We featured lots of reviews (here, here, here). DxOMark called the EF 24-70mm f/2.8L II a peerless performer.
CPN: The lens is more durable and is better weather-sealed than its EF24-70mm f/2.8L USM predecessor. What is your opinion on the build quality of the lens?

JA: "To be honest the old 24-70mm wasn't the best made lens I've ever used. But this one seems a lot 'tighter' – that's how I describe it – everything is more positive. It's much more solid.

Ergonomically it's much better – it's a smaller lens and I've got quite small hands, so when you use it with a camera ergonomically it's much nicer to use. The zoom ring is really nice because it's not as wide as the other lens was in terms of the actual 'throat' of the lens – you haven't got to move it so far to get it to zoom in and out. The focus is really nice as well – that's just on the end of my scale with my fingers."
Read the interview here.
Canon EF 24-70mm f/2.8L II lens price check: Amazon, B&H Photo, Digitalrev, eBay, Adorama, Canon USA, or rent it here.
[via The Digital Picture]