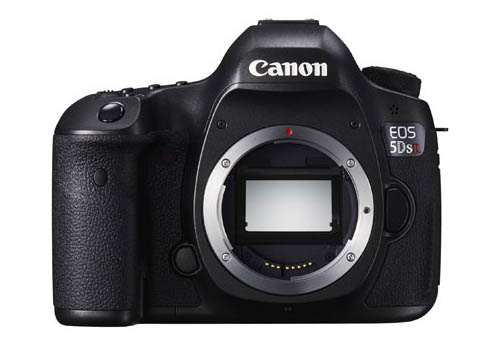 C|Net had the opportunity to test a Canon EOS 5DS R pre-production unit. This is one of the more exhaustive 5DS R reviews I saw so far. The EOS 5DS R and the EOS 5DS is that the former cancels the effect of the OLPF (optical low-pass filter) to get sharper images (at the cost of some image artefacts).
C|Net's review comes with many sample pictures, crops for better pixel-peeping, and some comparisons with Nikon's 36MP D810 (the EOS 5DS R has 50MP). A Sigma 50mm f/1.4 DG HSM Art lens was used on both the Canon and the Nikon, which makes comparisons more interesting as the Sigma is one of the few good cross-brand options.
The review is not without critic considerations, and looks at the EOS 5DS R from a "who needs it" perspective. About image quality the reviewer writes:
The photos from the prerelease camera are certainly sharper than any I've seen from a Canon, and they're a whole new level of quality compared to the 5D Mark III. But the photos from the preproduction version aren't as good as those from the D810. […] They've got more noise in the raws starting at midrange ISO sensitivities, and the D810 seems to have a broader tonal range. The camera offers a Fine Detail Picture Style that enhances sharpness and helps with photos ISO 800 and higher, but it also increases artifacts. The higher resolution does help in cases where the focus is slightly off, though, making scaled down images look a little sharper than they might have otherwise. And the video, even though it's two-megapixel HD, looks a lot sharper than Canon's other models.
Don't forget that a pre-production model was tested, and that image quality will change on the production model (according to Canon). Head over to C|Net to read the full review.
The Canon EOS 5DS and EOS 5DS R manuals are available in all languages (click here). Good to have a closer look to the EOS 5DS and 5DS R's features. Canon's EOS 5DS and EOS 5DS R are available for pre-order:
Canon EOS 5DS R specifications (from B&H's product page):
50.6MP Full-Frame CMOS Sensor
Dual DIGIC 6 Image Processors
Low-Pass Filter Effect Cancellation
3.2″ 1,040K-Dot ClearView II LCD Monitor
Full HD 1080p Video Recording at 30 fps
61-Point High Density Reticular AF
150,000-pixel RGB+IR Metering Sensor
Native ISO 6400; 5.0 fps Burst Shooting
User-Selectable Shutter Release Time Lag
Dual Compact Flash and SD Media Slots