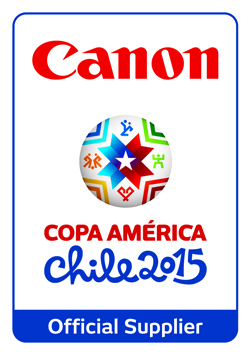 Canon press release:
Canon Provides an "Assist" to Help Professional Photographers and Broadcasters Score High-Quality Images at Copa America Chile 2015
Canon U.S.A. to be Official Supplier
MELVILLE N.Y., June 05, 2015 – Canon U.S.A., Inc., a leader in digital imaging solutions, today announced the Company will provide onsite service support to help professional photographers and broadcasters capture the iconic moments of Copa America Chile 2015. Canon's professional onsite service support will include simple equipment repair, clean and check service and equipment loans to outfit professionals with the proper gear to capture the excitement on the field. Service and support will be available in the media centers in each of the nine stadia hosting matches in the tournament.
"Canon is thrilled to join the Latin America community once again in supporting the Copa America soccer tournament," said Kenji Kobayashi, senior vice president, Canon U.S.A. Latin America Group. "This tournament is an excellent opportunity for Canon to strengthen our bond with our Latin American consumer and business markets. We are proud to provide onsite service and support to assist imaging professionals in sharing the action of the games with devoted fans across the world."
The international soccer tournament will take place in Chile from June 11- July 4, 2015 in eight cities, with 12 countries participating, including Argentina, Bolivia, Brazil, Chile, Colombia, Ecuador, Jamaica, Mexico, Paraguay, Peru, Uruguay and Venezuela.
For more information and contact about Canon Professional Service (CPS) for Copa America 2015 visit http://www.canon.cl/canon/cps/cps-en.htm.