Tamron SP 150-600mm F/5-6.3 Di VC USD G2 officially announced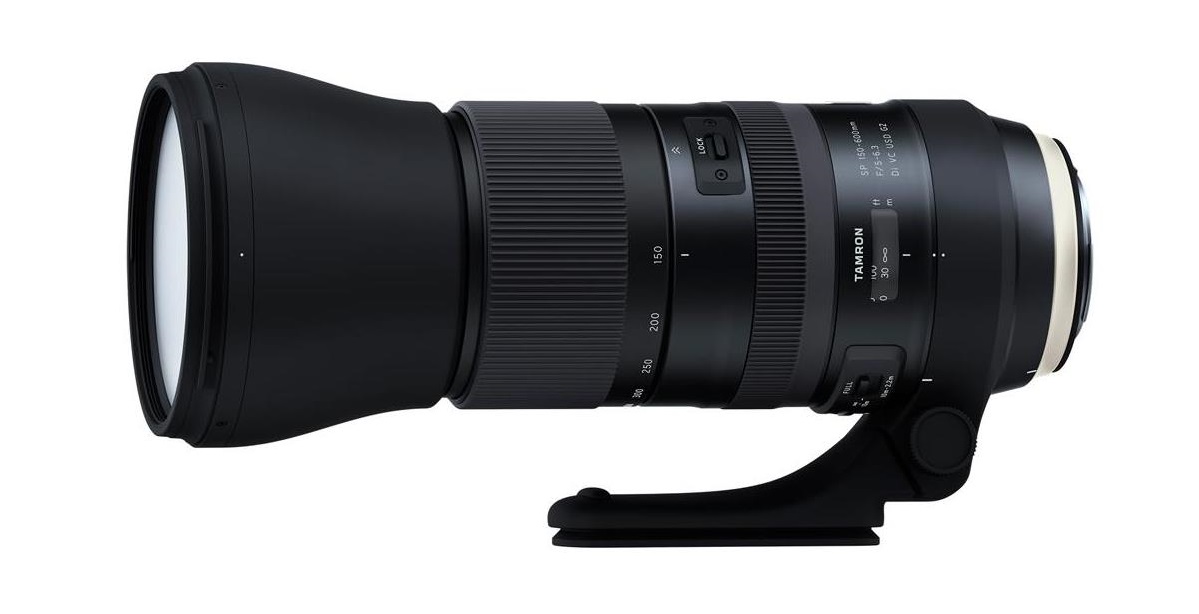 The Tamron SP 150-600mm F/5-6.3 Di VC USD G2 has been officially announced. The Tamron SP 150-600mm f/5-6.3 Di VC USD G2 lens can be pre-ordered at $1,399: Adorama | B&H Photo.
September 1, 2016, Saitama, Japan – Tamron Co., Ltd. (President & CEO: Shiro Ajisaka), a leading manufacturer of optics for diverse applications, announces the launch of the SP 150-600mm F/5-6.3 Di VC USD G2 (Model A022). This second generation "G2" lens builds upon the success of the SP 150-600mm F/5-6.3 Di VC USD (Model A011), which launched in December 2013 and continues to successfully meet photographers' needs in the ultra-telephotography category. The new G2 version was developed to provide superior optical performance with today's high resolution DSLRs and to add improvements to several features including speed and accuracy of AF and VC (Vibration Compensation). Also, several new features have been added: FLEX ZOOM LOCK mechanism, Fluorine Coating and optional tele converters. The new lens delivers outstanding performance and a luxurious, upscale appearance, including a metal lens barrel.
Optical design refreshed to achieve even higher performance
Three LD (Low Dispersion) lens elements completely eliminate axial and transverse chromatic aberrations. The design also features upgraded optical construction (21 elements in 13 groups) and leverages improvements in manufacturing technology. As a result, the lens delivers high resolution, improved sharpness and overall better performance.
Tamron's sophisticated eBAND Coating for eliminating ghosting and flare
eBAND (Extended Bandwidth & Angular-Dependency) Coating is a nano-structured layer deployed on the lens element surface. In addition to regular anti-reflection coatings, eBAND Coating offers higher light transmission and significant improvement in anti-reflection characteristics, especially against angulated incident rays. Combined with of BBAR (Broad-Band Anti-Reflection) coatings, flare and ghosting are reduced to imperceptible levels.
MOD reduced to provide optimum tele-macro photography
Tamron's advanced manufacturing technology has made it possible to reduce the MOD (Minimum Object Distance) to 2.2m (86.6 in), compared to 2.7m for Model A011, and has allowed for the wonders of tele-macro photography.
AF speed is faster and much more responsive with moving subjects
The Model A022 is equipped with a USD (Ultrasonic Silent Drive) ring-type motor that delivers excellent responsiveness and control. AF speed is significantly improved from current model, and it enables accurate high-speed focus even when capturing moving subjects.
When shooting with AF, the Full-time Manual Focus override allows you to instantly make fine focusing adjustments manually, without having to switch between modes.
VC performance is now 4.5 stops and offers three modes optimized for different situations
The VC (Vibration Compensation) effectiveness is equivalent to 4.5 stops, based on image stabilization performance levels established by CIPA (Camera & Imaging Products Association) when using in VC MODE 3. Model A022 now has three types of VC modes, and it is possible to choose the optimum VC mode according to the situation for taking a photograph, such as when wishing to pan the camera.
VC MODE 1 is the standard mode that strikes a great balance between the stability of the viewfinder image and the stabilization effects.
VC MODE 2 is exclusively used for panning.
VC MODE 3 prioritizes the stabilization of the captured images and forgoes the stabilization of the viewfinder image.
With the optional accessory TAMRON TAP-in Console™, you can custom the configuration of VC MODE 1. Choose the viewfinder view of either standard or viewfinder image priority.
New FLEX ZOOM LOCK mechanism enables the locking of the zoom ring at any position
FLEX ZOOM LOCK mechanism quickly locks or unlocks the zoom at any position simply by sliding the zoom ring. Photographers can shoot from any angle without the zoom extending unintentionally. Additionally, the conventional Zoom Lock switch prevents unwanted barrel extension during transportation.
Fluorine Coating and the Moisture-Resistant Construction for a more user-friendly lens
The front surface of the lens element is coated with a protective fluorine compound that is water- and oil-repellant. The lens surface is easier to wipe clean and is less vulnerable to the damaging effects of dirt, dust, moisture and fingerprints. For greater protection when shooting outdoors, leak-proof seals throughout the lens barrel help protect your equipment.
Electromagnetic diaphragm system now used also for Nikon-mount lenses
An electromagnetic diaphragm system, which has been a standard feature for Canon-mount lenses, is now employed in Nikon-mount lenses*3. More precise diaphragm and aperture control is possible because the diaphragm blades are driven and controlled by a motor through electronic pulse signals.
*3 Available only with cameras compatible with the electromagnetic diaphragm (D3100, D3200, D3300, D5000, D5100, D5200, D5300, D5500, D7000, D7100, D7200, D300, D300s, D600, D610, D700, D750, D800, D800E, D810, D810A, D3x, D3s, D4, D4s, Df, D500, D5). (As of September 1; Tamron)
The lightweight and easy-to-hold tripod mount that is compatible with an Arca-Swiss style quick release plate
A new textured grip and Arca-Swiss style tripod interface enhances both speed and utility. And because the tripod mount is made of lightweight magnesium, it is much easier to carry.
Compatible with TAMRON TAP-in ConsoleTM, an optional accessory product
The optional TAP-in Console provides a USB connection to your personal computer, enabling you to easily update your lens's firmware as well as customize features including fine adjustments to the AF and VC.
The tele converters exclusively for the Tamron lens now developed
Two exclusive tele converters*4, which perfectly match the optics of the new SP 150-600mm G2 (Model A022), offer 1.4x and 2.0x magnification, and provide a maximum zoom range up to 1200mm. These new tele converters extend focal length of the master lens, making it possible to take pictures in farther ultra-telephoto ranges.