The Most Iconic Photo Of The Last Century May Be A Publicity Stunt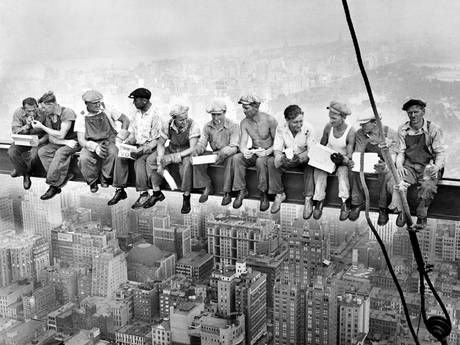 Who hasn't seen the pic above! Now The Indipendent came out with an article that suggests the image could have been a perfectly organized photo stunt:
This photograph of construction workers casually eating their lunch on a skyscraper beam suspended high about Manhattan can lay claim to being one of the 20th century's most recognisable images.

Yet, in the run up to its 80th anniversary today it has emerged that, far from catching the subjects unaware, the image was set up as a publicity shot for the Rockefeller Center.

[…] Ken Johnston, chief historian and archivist for Corbis Images, which owns the rights to the photo, said: "The image was a publicity effort by the Rockefeller Center. It seems pretty clear they were real workers, but the event was organised with a number of photographers."
Btw, the same seems to apply also for the less known picture below.