Today Only: IRIX 15mm f/2.4 Blackstone Lens (Canon EF) – $419 (reg. $599)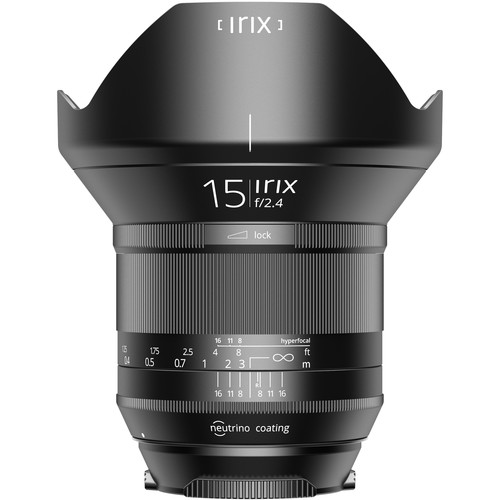 Only for today (12/5/2022) B&H Photo has a $180 discount on the IRIX 15mm f/2.4 Blackstone Lens for Canon EF mount.
At a glance:
Canon EF-Mount/Full-Frame Format
Aperture Range: f/2.4 to f/22
Two Aspherical Elements
Two ED and Three HR Elements
Neutrino Coating
Manual Focus Design with Focus Lock
UV Fluorescent Engraved Markings
Depth of Field and Focus Distance Scales
Weather-Sealed Magnesium Alloy Housing
Rounded Nine-Blade Diaphragm
Get the IRIX 15mm f/2.4 Blackstone Lens for Canon EF mount on sale at $419. Compare at $599.
More selected deals:
IRIX 15mm f/2.4 Blackstone Overview
Offering a wide-angle perspective, and characterized by its premium exterior build, the 15mm f/2.4 Blackstone Lens from Irix is a sophisticated prime lens designed for Canon EF-mount cameras. Benefitting the broad field of view is an advanced optical design that features aspherical, low-dispersion, and high-refractive index glass elements to control various aberrations and distortions, as well as maintain accurate and consistent color. A Neutrino coating is also utilized to control lens flare and ghosting and achieve a high degree of contrast and color fidelity when working in strong lighting conditions.
Complementing the optics, this 15mm f/2.4 makes use of a manual focus design for fine-tuned control, and incorporates a unique positive focus lock to secure the focusing position at any point for consistent, repeatable shooting. As the Blackstone version of this focal length, this lens is also distinguished by an aluminum and magnesium alloy exterior, engraved lens markings with fluorescent UV paint for high visibility, and extensive weather-sealing about the lens to permit working in harsh environments.
The Blackstone version of the 15mm f/2.4 lens features a durable aluminum and magnesium alloy housing and weather-resistant exterior along with inner seals, and an extra seal at the front element, to protect against dust and moisture intrusion. The metal exterior also distinguishes itself with an anti-scratch finish, and sports engraved focus distance and depth of field scales with fluorescent UV paint for high visibility when working in low-light conditions.
Wide-angle prime designed for full-frame Canon EF-mount DSLRs, this lens can also be used on APS-C models where it provides a 24mm equivalent focal length.
Two aspherical, three high-refractive index, and two extra-low dispersion elements are featured within the optical design to limit both spherical and chromatic aberrations, as well as color fringing and distortion, for improved clarity, sharpness, and even illumination.
A Neutrino coating has been applied to limit lens flare and ghosting for improved contrast and color fidelity.
Manual focus designed is benefitted by a positive focus lock mechanism to secure your focus position at any point to limit unwanted shifting of focus.
A hard click stop indicates the infinity position on the focus ring for easy use in low-visibility conditions.
Large depth of field scale benefits using hyperfocal and pre-focus techniques.
Front of lens has 95mm-diameter filter threads and the rear of the lens accepts 30 x 30mm cut gel filters to lessen the likelihood of vignetting.
Rounded nine-blade diaphragm contributes to smooth bokeh.
Includes complimentary additional rear lens cap.