Today Only: Lensbaby Velvet 56mm f/1.6 SE Lens (Silver) – $349.95 (reg. $549.95)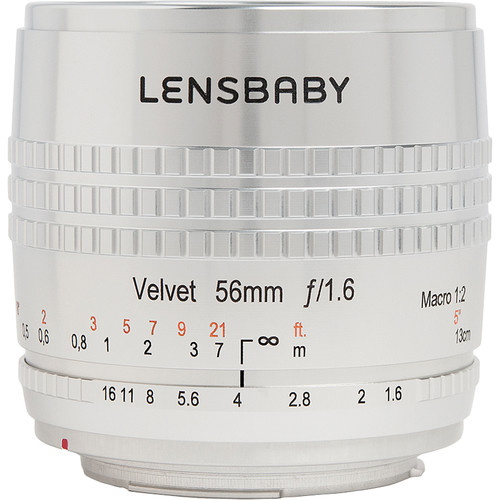 Only for today (8/3/2022) B&H Photo has a 37% discount on the Lensbaby Velvet 56mm f/1.6 SE Lens for Canon EF (Silver)
At a glance:
EF Mount Lens/Full-Frame Format
Aperture Range: f/1.6 to f/16
Singlet-Doublet-Singlet Optical Design
Soft Glowing Effect at Wide Apertures
Inspired by Classic Portrait Lenses
1:2 Magnification, 5″ Working Distance
Manual Focus and Exposure Control
All-Metal Lens Barrel
Filter Thread: 62mm
Silver Edition, Clear Anodized Finish
Get the Lensbaby Velvet 56mm f/1.6 SE Lens for Canon EF (Silver) on sale at $349.95. Compare at $549.95.
More selected deals:
Reminiscent of classic 20th century lenses, the Canon EF mount Velvet 56mm f/1.6 SE Lens from Lensbaby produces a uniquely soft, glowing image quality that is well-suited to making expressive and ethereal portraits. The overall softness can be controlled by stopping down the lens while still retaining the smooth tonality of a soft focus lens. Compatible with full-frame image sensors, this slightly longer-than-normal focal length pairs with the fast f/1.6 maximum aperture to excel in difficult lighting and achieve a shallow depth of field with controllable sharpness. Additionally, for increased creative versatility, the lens also offers a 1:2 maximum magnification and a minimum working distance of 5″ for macro shooting. Housed within a silver metal barrel, this lens also features smooth, dampened manual focus control to further benefit creative flexibility. Consistent with Lensbaby's aim of purveying selective focus capabilities and a unique velvety image quality, the Velvet 56mm f/1.6 is a versatile tool that marries classical looks with contemporary control.
Portrait-length 56mm focal length is compatible with full-frame format sensors as well as APS-C format sensors, where it will provide an 89.6mm equivalent focal length.
Fast f/1.6 maximum aperture offers extensive control over selective focus and shallow depth of field, and also benefits working in difficult lighting conditions.
The unique singlet-doublet-singlet lens design renders imagery with a soft, smooth, and glowing image quality reminiscent of mid-20th century portrait lenses.
Softness can be controlled by stopping-down the lens: when stopped-down to f/16, the image exhibits a smooth quality with greater central sharpness.
A 1:2 maximum magnification ratio and 5″ minimum working distance enable working with close-up subjects.
Silver edition lens features a clear anodized coating, silver-colored metal barrel, and engraved aperture and focus markings.
Manual focus design with a smooth, dampened focusing movement is complemented by engraved focus distance indicators.
Manual exposure control requires stop-down metering and manual setting of the aperture.