Top Amazon deals: EF 70-300mm f/4-5.6L IS and EF 100-400mm f4.5-5.6L IS USM Lens 40% off
UPDATE: found another two good deals (memory cards):
Transcend 64 GB SDXC Flash Memory Card $78.98 instead of $149.99 (-47%) – click here
SanDisk Extreme CompactFlash 16GB Memory Card SDCFX-016G-X46 $64.99 instead of $167.99 (-61%) – click here
Update: B&H (click here) and Adorama (click here) have the EF 70-300 f/4-5.6L IS USM  for $1,599.00.
Great deals by Amazon The EF 70-300 f/4-5.6L IS USM and EF 100-400mm f4.5-5.6L IS USM (only 3 left) lenses respectively 40% and 37% off Amazon's list price.
The EF 70-300mm f/4-5.6L IS USM UD lens is sold for $1,549.00 instead of $2,600.00 (-40%). Click here to check the deal.
Designed to deliver ultra-high quality images along with lightning fast operation, the new Canon EF 70-300 f/4-5.6L IS USM telephoto zoom lens brings a favorite zoom range to the celebrated Canon L-series of lenses. It features two Ultra Low Dispersion (UD) elements for improved image quality and reduced chromatic aberration, incorporates a floating focusing mechanism for sharpness from close up to infinity, plus an IS system that increases usability by approximately four stops. The EF 70-300 f/4-5.6L IS USM features a function that prevents erroneous operation when the lens is mounted on a tripod or monopod. Gleaming white, with a removable tripod collar, dust and water resistant construction, and a newly developed Fluorine coating that keeps soiling, smears and fingerprints to a minimum, its phenomenal performance and flexibility is assured. For portraiture or to bring what's far away up close, this addition to the L-series is guaranteed to perform.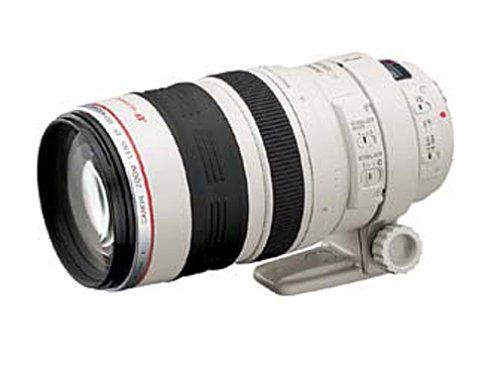 The EF 100-400mm f4.5-5.6L IS USM lens is sold for $1,689.00 instead of $2,700.00 (-37% – ONLY 3 LEFT IN STOCK) – click here to check the deal

100-400mm telephoto zoom lens with f/4.5 maximum aperture for Canon SLR cameras
2 Image Stabilizer modes make it easy to capture far-off action or close-in portraits
Flourite and Super UD-glass elements largely eliminate secondary spectrum
Compatibility with extenders 1.4x II and 2x II; 5.9-foot close focusing distance