Yongnuo 35mm f/2 review (a punch for the price, PetaPixel)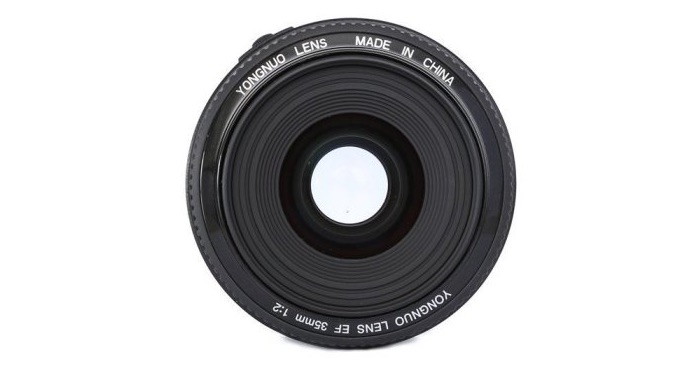 How does the $120/€110 priced Yongnuo 35mm f/2 perform? Our friends at PetaPixel felt the pulse of Yongnuo's budget lens.
In the conclusion PetaPixel writes:
Yongnuo's YN 35mm f/2 is an excellent value — let's just get that out of the way. For $120, the lens is much cheaper than its Canon counterparts. Picking up a used Canon EF 35mm f/2 lens would run you around $280, while the brand new Canon EF 35mm f/2 IS USM would run you around $550. Comparing the Yongnuo to Canon's older lens is quite easy: we say go with the Yongnuo YN 35mm f/2 for smoother bokeh and similar performance.
The review comes with many sample photos. Read the review at PetaPixel.
The Yongnuo EF 35mm f/2 is . The Yongnuo 35mm IS also available on Amazon.
Product description after the break. 
Yongnuo fast EF 35mm wide-angle lens with it's fast aperture of F/2 is sure to capture any moment even in the lowest lighting conditions. It has a minimum focusing distance of only 0.8 ft. (25cm), so even if you're close-up, you can still obtain that natural wide-angle effect. It is affordable and ideal for anything that calls for excellent optical performance and moderate wide focal length.
Features: 1, Support auto focus (AF) and manual focus (MF) mode. 2,The aperture blades up to 7 pieces,which allows you able to shoot the near-circular diffuse plaques,appropriately narrow the apertures can shoot the 14 astral effect. 3,Adopts chrome high precision metal bayonet,which effectively improve the goodness to fit the camera body and the bayonet strength, wear and corrosion resistance for durable use. 4,Full line of the products are glass lenses. 5,Supports full-frame and APS-C format cameras,supports M/AV/TV/P and other camera shooting modes,and can be displayed the aperture data in the EXIF Information. 6,Multi-coated lenses,effectively improve the transmittance and suppress the ghosting and flare when in backlit shooting . 7,Adopts gold plating for the metal contacts,effectively improve the signal conductivity and corrosion resistance.
Youngnuo products are available also at B&H Photo. They also have the Yongnuo 50mm f/1,8 for $69, a clone of Canon's Nifty-Fifty, the EF 50mm f/1.8.