$2000 Instant Rebate On Canon EOS C300 (and more cool stuff from Adorama)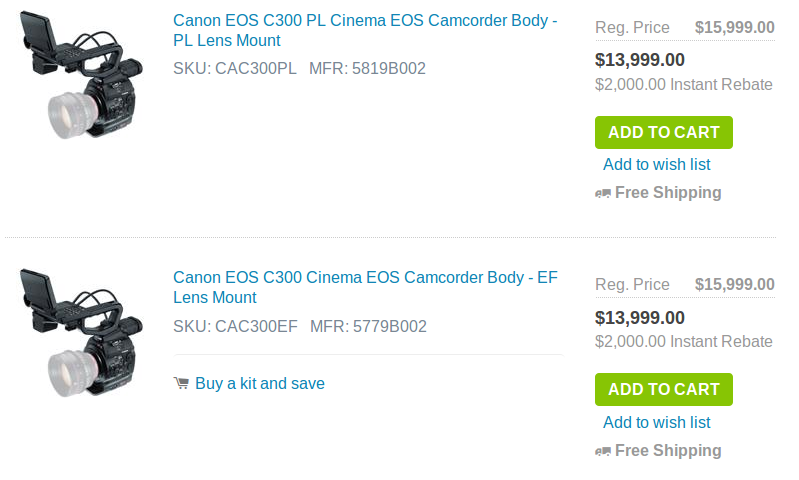 Today we have some cool stuff from Adorama. Adorama has an instant discount program for the Canon EOS C300 going on. Instead of $15999, the C300 is on sale for $13,999 (click here). The offer is for both the EF (click here) and PL (click here) mount versions.
Before I forget it: Adorama started a best shot contest. The price is an EOS 6D (or a camera of another brand).
Adorama also has the instant rebates program going on on selected Canon lenses and Speedlites (click here to see all items on sale). For instance:
Finally, if you have some old Canon body you want to get rid off, and if you are looking forward to get a Sony camera (you do? shame on you!), then Adorama has the right deal. For a limited time (until March 3rd), they offer a trade in-trade up special promotion when you trade in an old and even non-working camera to credit towards a new Sony RX1 and Sony RX100 (the credit applies right on the invoice). How does it work? Order a Sony RX1 (do it here) or a Sony RX100 (do it here) and email [email protected] to let Adorama know so that they can apply the trade in discount. The trade in credit is not fixed to a given amount, it depends, but in any case it is consistent enough to make it worth. For instance, when trading in a PowerShot SD1000 (even a broken one) to purchase the Sony RX100 (would cost $648) you will receive around $80 as credit for the purchase, effectively paying $568. The whole operation is quick and effortless. But do you really want to give away your Canon camera, even if it is not working? :-)