Canon gets six accolades for cameras, Speedlite and a lens in the 2018 TIPA Awards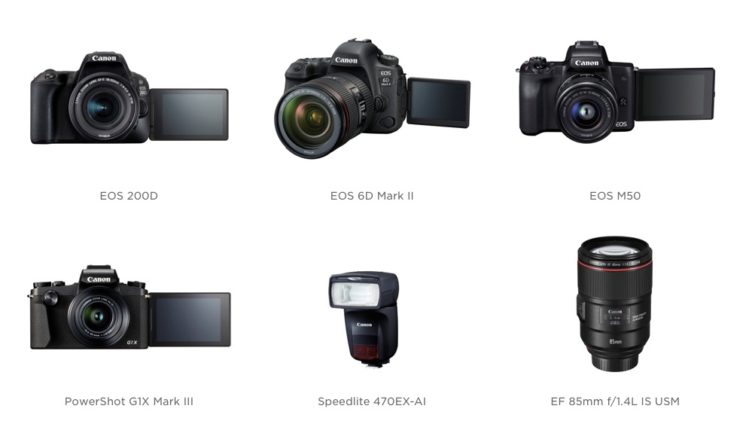 Canon got six 2018 TIPA awards for the Canon EOS 6D Mark II, EOS 200D, EOS M50, PowerShot G1X Mark III, Speedlite 470EX-AI, and the EF 85mm f/1.4L IS lens.
Canon press release:
Canon Celebrates Six Accolades for Cameras and Accessories in the 2018 TIPA Awards
London, UK, Thursday 19th April 2018 – Canon Europe today announces it has been awarded six accolades by the Technical Image Press Association (TIPA). Representing 30 industry magazines from 15 countries across five continents, it is one of the world's leading photo imaging and press associations. Canon was first commended by TIPA in 1991, and 2018 marks the 24th year it has been recognised for technical innovations to the photography industry. The prestigious panel meet annually to discuss the latest imaging products, and consider a range of criteria including innovation, use of leading-edge technology, design and overall product quality, to select and acknowledge the very best products across the industry.
Four Canon cameras, one lens and a world leading flash have been recognised as industry-leading this year, and were specifically accredited with meeting the diverse image shooting and video production requirements for all customer types and technical capabilities.
The following products have been awarded TIPA accolades:
Lee Bonniface, Marketing Director, Canon Europe says: "We are extremely proud to be recognised and awarded with six prestigious TIPA awards. This global recognition highlight Canon's ongoing commitment to creating the highest quality industry-leading products, so to meet our customer's expectations, interests and technical capabilities. We are committed to continually developing new and innovative products that are trusted by our customers, photographers and videographers around the world, so that they can continue to tell and capture memorable stories."
In honouring Canon's award-winning products, the TIPA judging panel offered the following citations:
Best DSLR Enthusiast: Canon EOS 200D
If size is a decisive matter in choosing an interchangeable lens camera, Canon's EOS 200D gives little ground to its mirrorless rivals. This very affordable and ultra-compact DSLR, available in kit form with an EF-S 18-55mm lens, incorporates an upgraded 24.2MP APS-C CMOS sensor with Dual Pixel CMOS AF. With both optical viewfinder and 3-inch Vari-Angle touchscreen LCD, the EOS 200D delivers up to 5 fps shooting, a nine-point AF system, a pop-up flash (plus hotshoe), and easy sharing on social media sites with built-in Wi-Fi, NFC, and Bluetooth connectivity. With both JPEG and RAW still capture capability, plus 1080/60p video, the camera offers a host of AF, exposure, scene, and auto-bracketing modes.
Best Full-Frame DSLR Expert: Canon EOS 6D Mark II
A full frame, full-featured DSLR aimed at enthusiasts, as well as pros who seek a second compact and lightweight body, the full-frame EOS 6D Mark II includes an all-new 26.2MP sensor with Dual Pixel CMOS AF technology that aids AF during live view and movie shooting. The camera has a normal ISO range of 100-40,000, and up to ISO 25,600 when shooting full HD 60p video. It can deliver up to 6.5 fps when using the optical finder and 4 fps when working with the 3-inch, fully articulating Vari-Angle touchscreen LCD. The EOS 6D Mark II features several connectivity options, with Wi-Fi, NFC and Bluetooth, plus there's a built-in GPS. Focusing is fast and reliable thanks to up the optical viewfinder's 45 cross-type AF points.
Best Mirrorless CSC Enthusiast: Canon EOS M50
4K video in an entry-level camera, characterised as affording an easy path from a smartphone to using a real live camera and all the potential creative image-making that entails, the Canon EOS M50 sports a 24.1MP APS-C CMOS sensor, with improved Dual Pixel CMOS AF and a built-in EVF. The M50 delivers quality images in low light conditions and can record 4K video, as well as HD at 120p. The body is small and lightweight, with a Vari-Angle touchscreen LCD. When it comes to sharing and connectivity, an important part of encouraging smartphone photographers to convert, the EOS M50 has Wi-Fi, NFC, and Bluetooth, plus the capability to automatically transfer images to a smartphone as they are taken.
Best Professional Compact Camera: Canon G1X Mark III
A compact for professionals and enthusiasts alike, pros and advanced photographers often seek a "second camera" that will meet their quality expectations while being lightweight, portable, and perfect for travel. The G1X Mark III meets these criteria with a 24.2MP APS-C CMOS sensor with Dual Pixel CMOS AF, a 3-inch Vari-Angle touchscreen LCD, a 2.36 million dot OLED EVF, Full HD video, optical image stabilisation, and an integral 24-72mm (equivalent) lens. The camera can deliver up to 7 fps shooting rate, ISO range is ISO 100-25,600 and is both dust and moisture resistant. USB charging capability adds another versatile convenience factor for on-the-go photographers.
Best Photo Innovation: Canon Speedlite 470EX-AI
The Canon Speedlite 470EX-AI automatically pivots to create an optimal angle of bounce for portrait photography by using a pre-flash to initially calculate flash-to-subject distance, then the distance to the ceiling, and finally moves the flash angle to the correct position. This shift adjusts to vertical or horizontal camera position and includes an AF assist with coverage from 14mm and 24mm to 105mm focal lengths. In all, the Speedlite is a major step forward to helping beginners achieve better results, and may also be adopted by wedding and event photographers as an additional tool.
Best DSLR Prime Lens: Canon EF85mm f/1.4L IS USM
A fast, versatile professional lens with Image Stabilisation, ideal for studio and location portrait, candid and nature photography. The EF 85mm f/1.4L is Canon's first 85mm prime L-Series lens to incorporate Image Stabilisation that delivers up to 4 stops of compensation, which adds low-light capability to handheld image capture. This dust and water-resistant lens has a 9-bladed circular aperture for beautiful bokeh effects, especially when utilising its 0.85m (2.79 ft) minimum focusing distance at wide apertures. AF is fast and responsive due to "Ring USM" technology and rear group focusing. The lens is composed of 14 elements in 10 groups and delivers corner-to-corner sharpness aided by a moulded glass aspherical lens and Canon's anti-reflective Coating technology.
The 2018 TIPA World Awards ceremony will take place at Photokina in Cologne, Germany on Wednesday, 26th September 2018.