A Canon Watch's Special: Get 20% Discount On Kuuvik Capture Tethering Software
I am proud to offer a special deal to all Canon Watch readers. A 20% discount on the retail price of Kuuvik Capture, a newly released tethering software for the Mac. All you have to do is enter the coupon code canonwatch.com when checking out in the webshop. The discount program starts today, June 3th and runs through June 12th. For ten days. Instruction are at the end of the post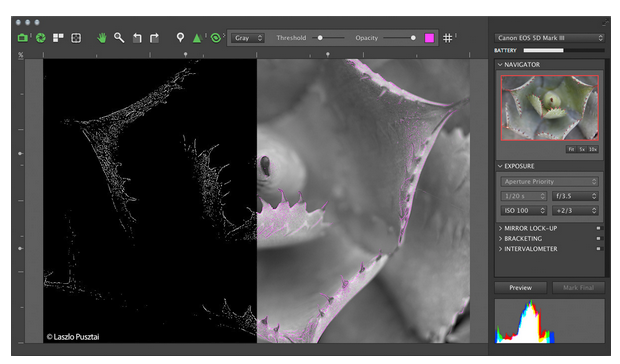 What is Kuuvik Capture? It's a feature-rich tethering application for Mac OS X. It has all the remote shooting functionality you find in other similar software, but it offers much more than simple live view. Kuuvik Capture offers some functionality that can make a difference in your workflow:
easy and intuitive interface
advanced live view
split view of the live view image with simultaneous evaluation of focus and depth of field

parametric sharpening along with focus peaking overlay – in real time and applied to the camera's live view stream

unique raw-image-based histogram completed with over and underexposure warning
ability to program your camera's custom white balance
exposure sequence automation (HDR, time-lapse)
and much more…
Currently, Kuuvik Capture is available at an introductory price, so you get an even better bargain when applying the coupon code (see below how to).
Licenses for Canon EOS 60D, 650D, 600D, 550D, 1100D: $79.99 – with coupon code: $63.99
Licenses for Canon EOS-1D X, 1D Mark IV, 1Ds Mark III, 5D Mark III, 5D Mark II, 6D, 7D: $99.99 – with coupon code $79.99

How to get the 20% discount. First, download the 30 day trial version of Kuuvik Capture here (scroll down to the bottom of the page). Then, you can buy the license from within the application following the Kuuvik Capture->License path. After that you click on the "Buy" button. The coupon code (canonwatch.com) needs to be entered right before checkout in the webshop. The discount will be applied against the purchase price. Happy tethering! :-)
SYSTEM REQUIREMENTS
Apple Mac or MacBook computer with a 2GHz Intel Core 2 Duo or better processor.
2 GB RAM (4 GB is highly recommended).
100 MB free disk space for the application, and gigabytes for your photos.
Calibrated monitor with minimum 1280 x 800 pixels resolution.
OS X 10.6.8, 10.7.5, 10.8.3 or later.
CAMERA SUPPORT
Canon EOS-1Ds Mark III 2,3,4,5, EOS-1D Mark IV 6, EOS-1D X 1,6
Canon EOS 5D Mark II 6, EOS 5D Mark III 1, EOS 6D 1, EOS 7D 6
Canon EOS 60D 6
Canon EOS 550D 6, EOS 600D 6, EOS 650D
Canon EOS 1100D 4,6
(1) Split view is available and fully supported.
(2) Live mode AF is not supported.
(3) Picking white balance from the live image is not supported.
(4) Remote mirror lock-up is not available or not supported.
(5) Displaying exposure metering result is not supported.
(6) Displaying exposure metering result is not supported in manual mode.