Android App DigiReview Keeps You Informed About Cameras, Lenses, and More
DigiReview is a cool app by Ethan Le for Android devices, which gives you a comprehensive guide to all DSLR, MILC and lenses that work with Canon mounts (among others). Moreover, the most important review sites are featured, so you can check reviews and comments about the gear you are looking out. And, last but not least, the most relevant rumours sites are also featured. That's to say that Canon Watch news can be read from inside the app. There is a free, ad-supported version of the app, and the ad-free version that will set you back for just $0.99.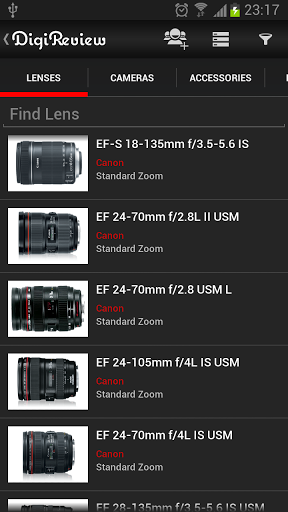 App description:
This is the complete guide to all DSLR and mirrorless cameras and lenses that works with Canon, Nikon, Sony, Micro Four Thirds (Panasonic and Olympus), Fujifilm X mounts, including lenses from third parties such as Sigma, Tamron, Carl Zeiss, Tokina, Samyang, Leica.
+++ Technical specifications of hundreds of lenses and cameras
+++ Thousands of technical reviews from reputed sites such as dpreview, the-digital-picture, photozone.de, …
+++ High Quality Sample Images taken by cameras and lenses (from Flickr and 500px), zoom feature supported
+++ Most updated price from Amazon.com
The app provides the following features
– List of all DSLR / mirrorless cameras and lenses in Canon, Nikon, Sony, Micro Four Third (Olympus and Panasonic), Fujifilm X lineup plus third parties' lenses with support for Offline browsing.
– Smart filter with a lot of options for easy look up and discovery.
– Detail technical specification of each camera and lens plus option to compare it side by side with other similar cameras and lenses.
– Link to lens reviews from reputed review sites such as dpreview, the-digital-picture, photozone and lenstip.
– View sample images taken by the camera or lens from other photographers. Contain options to filter by categories/topic such as landscape, portrait, bokeh, …
– Check lastest camera and lens price from Amazon.com.
– Keep up to date with latest rumour and news of upcoming Canon and Nikon imaging products.
– Bookmark feature allowing easy tracking of your current gear and wish list