Off Brand: Sony On the Way to Kill Bayer Sensor Technology?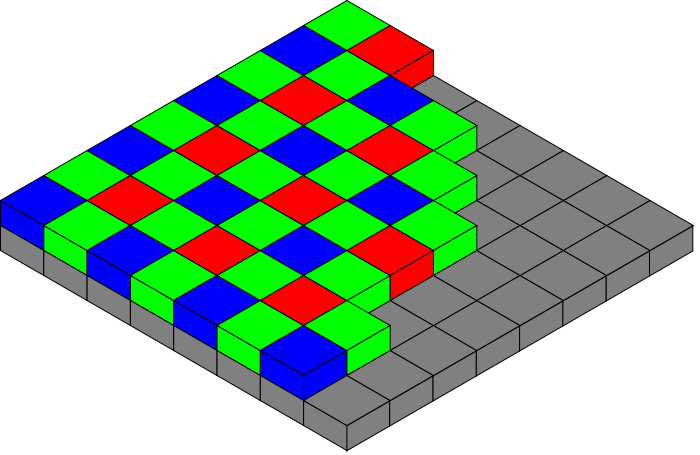 A Bayer pattern over a sensor
It appears Sony is going to make another big innovative step. According to news emerged at Sony Alpha Rumors, 2015 will be the year when Sony might announce a totally new sensor technology, named Active Pixel Color Sampling (APCS). A leaked specs sheet refers to a 1.5 inch sensor with 4.8 million pixels. What, less than 5MP? Read on. 
This could be a big evolution in sensor technology, making look the Bayer sensor technology totally obsolete. Just to remember, the Bayer sensor…
is a color filter array (CFA) for arranging RGB color filters on a square grid of photosensors. Its particular arrangement of color filters is used in most single-chip digital image sensors used in digital cameras, camcorders, and scanners to create a color image. The filter pattern is 50% green, 25% red and 25% blue (Wikipedia)
That's why we are talking about RGB sensors when referring to the current technology. So far so good.
What makes the new Sony technology so exciting? Each photodiode can take the full color info with the help of an electrified moving color filter. That means you do no longer need a photodiode dedicated to one of the RGB colours. So the 4.8MP are perfectly ok since this sensor needs 1/3 the number of pixels to interpolate the same color image as a Bayer sensor (with 1/3 data to transmit, btw). Since the pixels are 4 times larger than equivalent pixels on a Bayer sensor, the low light performance might be something never seen before, especially if this technology finds its way on a full-frame sensor. The photodiode size of the leaked 1.5″ sensor is more or less the same as on the full-frame sensor featured on Sony's A7s. Figure out.
Finally, there is another cute thing in the leaked specs sheet. The described sensor features a global shutter circuit on each pixel. No more rolling shutter issues, hopefully.
Sounds really compelling, doesn't it? Sony is going to dominate the sensor market with continuous innovation. Canon, did you get the message?
To get the whole story head over to Sony Alpha Rumors (edit: sorry, messed up the link before)