Canon Announced Webcam Starter Kits For EOS RP And Some EOS M And Rebels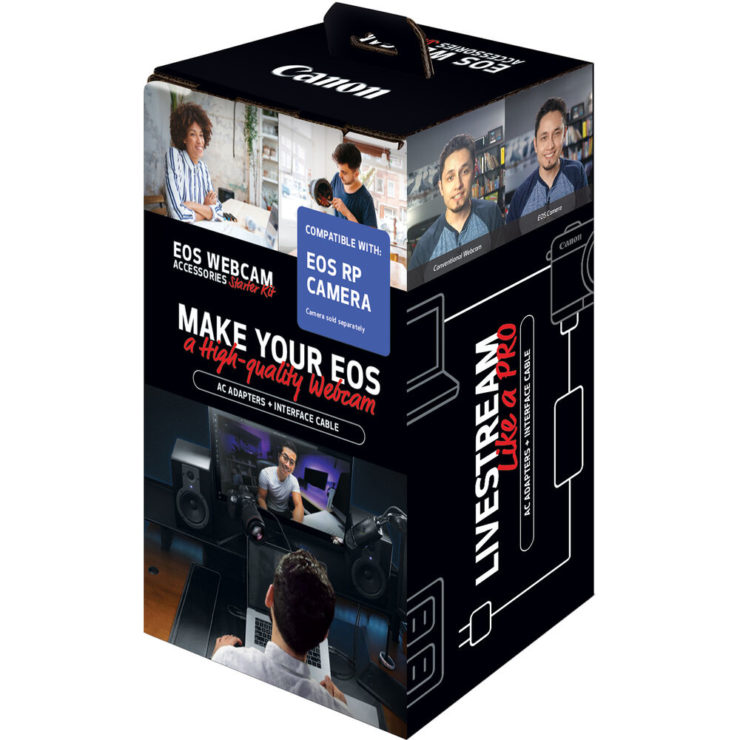 Canon released webcam starter kits for the Canon EOS RP, and selected EOS M and Rebel DSLR cameras.
The webcam starter kits are to be used with Canon's free Webcam Utility software. The kits sell at $159.99 for the EOS RP and at $89.99 for the others. The kits contain adapters, couplers and interface cables. Preorders open at B&H Photo. More information about Canon's free Webcam Utility software is listed here.
Webcam starter kit for the Canon EOS RP:
Turn your EOS RP Mirrorless Digital Camera into a high-performance webcam and enhance the quality of your content with the EOS Webcam Accessories Starter Kit from Canon. Simply download the freely available EOS Webcam Utility software, connect the camera to a compatible laptop or desktop computer with the provided IFC-100U Interface Cable, power it with the included AC-E6N AC Adapter and the supplied DR-E18 DC Coupler using a standard home outlet, and you'll be on your way to longer continuous shooting and outstanding clarity. Whether you're working, teaching, livestreaming, or just reaching out to friends and family, your audience will be able to clearly see you. This kit gives you everything you need in one convenient package, and lets you put yourself out there with the quality and ease you desire.
Turns your camera into a high-performance webcam and enhances the quality of your content
Provides superb clarity and continuous shooting
Powers the EOS RP Mirrorless Digital Camera via a household outlet for longer shooting sessions
Provides power wherever a convenient outlet is located, including indoors, outdoors, or in a studio