Canon Congratulates Imaging Professionals Who Captured Best Super Bowl Moments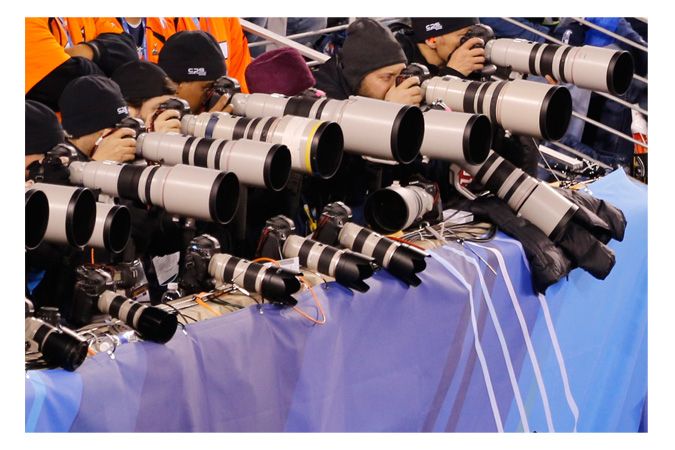 Canon press release:
Canon Congratulates the Team of Imaging Professionals Who Captured the Iconic Moments of the Big Game
MELVILLE, N.Y., February 6, 2014 – On February 2nd imaging professionals from across the country gathered in New Jersey to cover the big game between teams from Seattle and Denver. Prepared to battle the potential elements, these professionals provided football fans with images documenting monumental moments and plays that can be watched, enjoyed and relived for years to come.
"We are honored to have seen so many photographers using our equipment to capture images of the big game this past weekend. Canon is committed to ensuring our products and support live up to the needs and expectations of our customers, and it is always humbling to see Canon equipment being used in such high profile events," said Yuichi Ishizuka, executive vice president and general manager, Imaging Technologies & Communications Group, Canon U.S.A.
Canon U.S.A., Inc. was on site in New Jersey with its Canon Professional Services (CPS) team to provide these professionals with convenient access to support personnel, equipment maintenance, and product loans. "I have personally been impressed with Canon's proactive, prompt and thoughtful support for professionals," said Tom Hauck, freelance sports photographer who photographed the game and has shot over 350 professional football games in his career. "Before the game, I sent all my gear to Canon's Irvine service facility to be cleaned and checked and I got everything back in about two days. And at the game, Canon's CPS staff was on site providing information on how to better understand and get the most from my equipment as well as peace of mind."
The sidelines of the big game were lined with photographers using Canon EOS Digital SLR cameras and iconic white lenses. Canon is honored that more than 75 percent* of professional photographers covering the game utilized Canon DSLR cameras and EF lenses to capture and share the memorable moments of the gridiron matchup. Canon broadcast lenses were also used extensively to deliver the game to more than 111 million television viewers.
Currently, CPS is on-site in Sochi, Russia providing support to photographers and broadcasters throughout the month of February.
For more information about CPS visit: http://www.cps.usa.canon.com/
About Canon U.S.A., Inc.
Canon U.S.A., Inc., is a leading provider of consumer, business-to-business, and industrial digital imaging solutions. With approximately $36 billion in global revenue, its parent company, Canon Inc. (NYSE:CAJ), ranks third overall in U.S. patents registered in 2013† and is one of Fortune Magazine's World's Most Admired Companies in 2013. In 2013, Canon U.S.A. has received the PCMag.com Readers' Choice Award for Service and Reliability in the digital camera and printer categories for the tenth consecutive year, and for camcorders for the past three years. Canon U.S.A. is committed to the highest level of customer satisfaction and loyalty, providing 100 percent U.S.-based consumer service and support for all of the products it distributes. Canon U.S.A. is dedicated to its Kyosei philosophy of social and environmental responsibility. To keep apprised of the latest news from Canon U.S.A., sign up for the Company's RSS news feed by visiting www.usa.canon.com/rss and follow us on Twitter @CanonUSA.
For media inquiries, please contact [email protected].
###
† Based on weekly patent counts issued by United States Patent and Trademark Office..
*Based on Canon U.S.A., Inc. survey and data, as of February 4, 2014