Canon develops groundbreaking image sensor, calls it eye of the future

Canon published a technical article about the world's first 1-megapixel SPAD image sensor. A groundbreaking image sensor and distance measurement sensor that will be the eyes of the future.
The advanced technology discussed in the Canon article is for applications involving augmented and virtual reality, ultra-high frames-per-second shooting speeds, robot automation, computer vision, and driverless vehicles. Here are some excerpts from the article:
Both SPAD and CMOS sensors make use of the fact that light is made up of particles. However, with CMOS sensors, each pixel measures the amount of light that reaches the pixel within a given time, whereas SPAD sensors measure each individual light particle (i.e., photon) that reaches the pixel. Each photon that enters the pixel immediately gets converted into an electric charge, and the electrons that result are eventually multiplied like an avalanche until they form a large signal charge that can be extracted.

[…] it was considered difficult to create a high-pixel-count SPAD sensor. On each pixel, the sensing site (surface area available for detecting incoming light as signals) was already small. Making the pixels smaller so that more pixels could be incorporated in the image sensor would cause the sensing sites to become even smaller, in turn resulting in very little light entering the sensor, which would also be a big problem.[…] Canon incorporated a proprietary structural design that used technologies cultivated through production of commercial-use CMOS sensors. This design successfully kept the aperture rate at 100% regardless of the pixel size, making it possible to capture all light that entered without any leakage, even if the number of pixels was increased. The result was the achievement of an unprecedented 1,000,000-pixel SPAD sensor.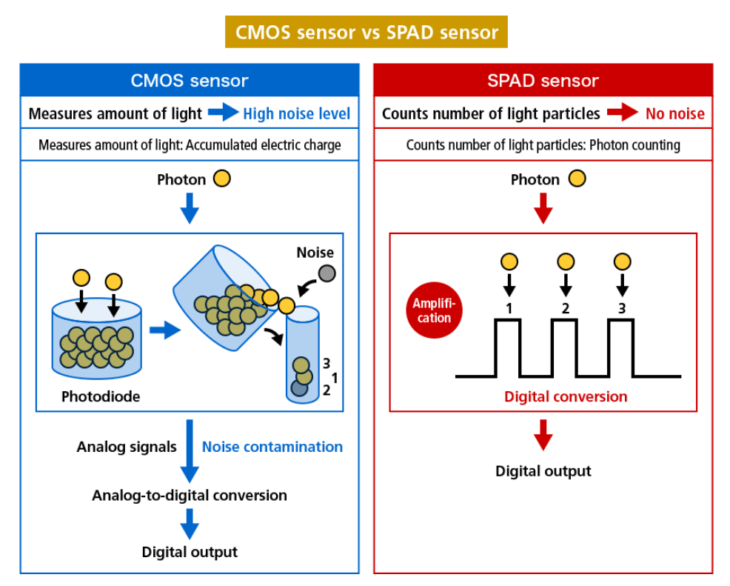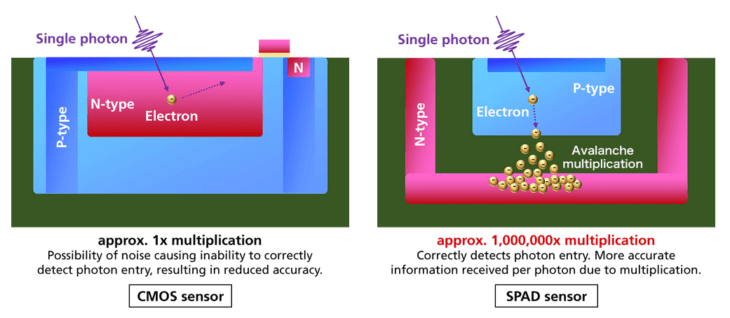 Canon sees many applications for their new and revolutionary image sensor:
In the fields of AR (augmented reality) and VR (virtual reality), which involve superimposing virtual images on top of real ones, being able to use the SPAD sensor to speedily obtain accurate three-dimensional spatial information enables more precise alignment of positions in real time. There are also high expectations for the application of SPAD sensors in solving one of the greatest challenges in designing driverless vehicles: the measurement of distances between a vehicle and the people and objects in its vicinity.
The article is very interesting and if you are into these technologies we recommend you give the article a try. The whole thing was spotted by Image Sensors World. More tech stuff is listed here.