Canon EF 600mm f/4 DO IS may come late 2017, several patents exist [CW3]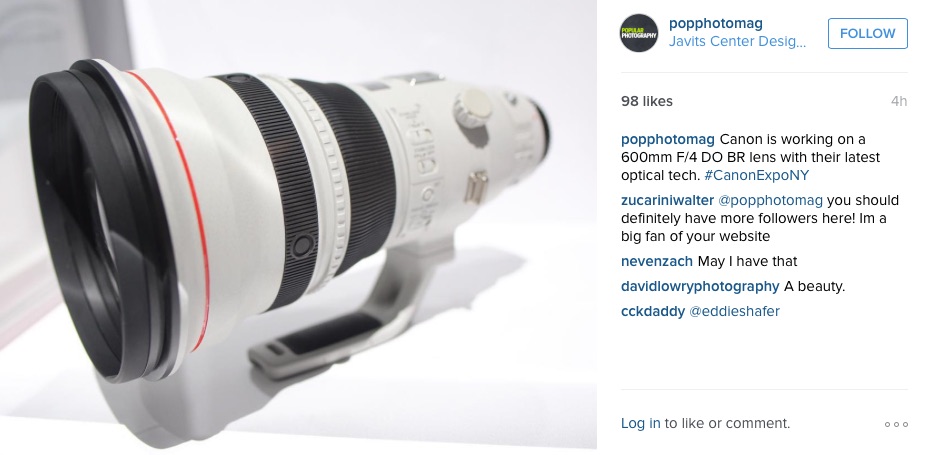 Do you remember the prototype 600mm f/4 lens shown at Canon Expo 2015? Well, guess it was just a matter of time before a pertinent rumor surfaced.
A new Canon EF 600mm f/4 DO IS lens is said to be announced in late 2017. Indeed, there are several patents pointing to such a lens, both for a 600mm f/4 and 600mm f/5.6 and with some patents dating back to 2012 (1 | 2 | 3 | 4 | 5).
Given the amount of patents pointing to a 600mm optical formula, I guess it is a safe assumption that Canon is actively working on such a lens and that we will see it, sooner or later. While I am pretty sure Canon is working on a EF 600mm f/4 DO IS lens, I am sceptical about the announcement date since rumored dates for Canon's big white "L" lenses rarely happened to be right.
The prototype EF 600mm f/4 DO lens (pic above and below) shown at Canon Expo 2015 features Blue Spectrum Refractive Optics, a technology Canon announced in August 2015. BR corrects chromatic aberrations. The technology was first seen on the Canon EF 35mm f/1.4L II.
The rumor adds some more juice, suggesting that
Canon is well on its way developing updates for the other "big white" prime lenses. While optics will likely be similar, Canon is working on weight savings techniques and updated coatings and IS systems. We don't expect to see these lenses announced in 2017, although we're told it's possible we may see them being tested at the 2018 Olympics in South Korea.
Pinch of salt needed here.