Canon EF-M 18-55mm f/3.5-5.6 IS STM Review (slrgear)
Lens specs:
Standard Zoom Lens for EOS M Camera
Compact & Lightweight Design
Movie Servo AF Function
4 Equivalent Stops of Shake Correction
Dynamic IS (Movie Shooting Mode Only)
Three Aspheric Lens Elements
Minimum Focusing Distance: 9.8″ (25 cm)
Max Magnification: 0.25x
slrgear reviewed the Canon EF-M 18-55mm f/3.5-5.6 IS STM lens (price & specs), part of the Canon EOS M (price & specs) ecosystem. For the time being there are only two lenses for the EOS M, the other one being the EF-M 22mm f/2 STM (price & specs), but there should soon be more lenses.
Some excerpts from the review:
The Canon EF-M 18-55mm ƒ/3.5-5.6 IS STM provided surprisingly sharp results. When used wide open at ƒ/3.5, there is some slight corner softness, but the majority of the frame is very sharp. Stopping down to just ƒ/4 (or after 24mm, ƒ/5.6) provides very sharp images
The [lens] provides acceptable performance between 24mm and 45mm, but we note some obvious chromatic aberration present in the extreme corners of the frame at the wide and tele settings (18mm and 55mm – take a look at [slrgear's] sample images for further detail)
There is some slight corner shading […]: used at the ƒ/3.5 (at 18mm) setting, the corners show up around a half-stop stop darker than the center of the frame.
The EF-M 18-55mm is equipped with Image Stabilization, which works quite well for this lens.
[Conclusion:] For a small and relatively inexpensive lens, the Canon EF-M 18-55mm ƒ/3.5-5.6 IS STM provides very good results, typically of kit zoom lenses.
Canon EF-M 18-55mm f/3.5-5.6 IS STM price check: B&H Photo, Adorama, Amazon USA, Amazon CA, KEH Camera, BestBuy, Canon CA, Canon USA Canon EOS M price check: B&H Photo, Adorama, Amazon USA, Amazon CA, KEH Camera, BestBuy, Canon CA, Canon USA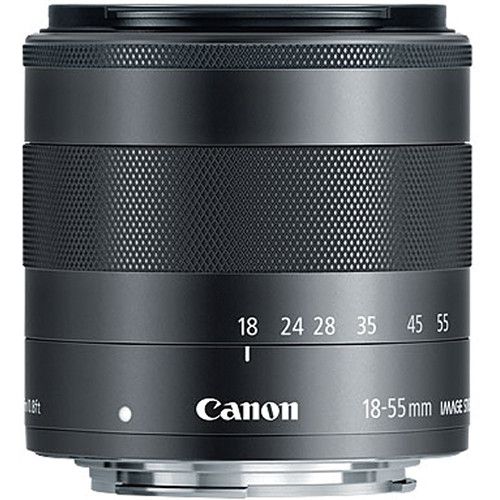 [via slrgear]