Canon EOS 5D Mark IV 18MP and 24MP test-units out in the wild [CW1] – UPDATE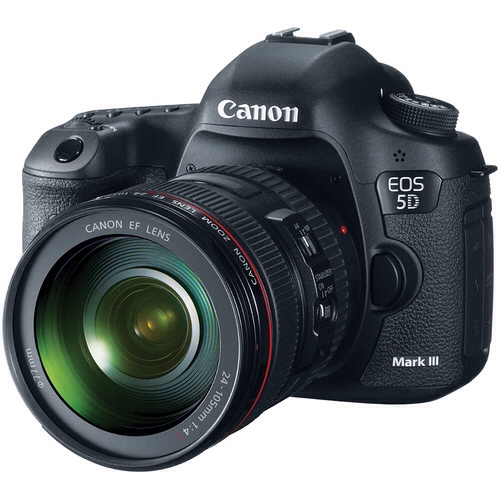 Update: the same rumor was previously posted to the CR forum (thanks for the tip):
A friend of mine has just been 'brought' over to Canon from Nikon and is being considered as a potential tester for the 5DIV

There are multiple MP variants but the two my friend mentioned were 18mp and 24mp, with the former more a field experiment in gauging affect on AF speed, buffer management.

The 24mp seems to be the target though but 8fps seems to be out of the question.
I am no longer sure this rumor shouldn't be considered a hoax, and I downgrade it to CW1. I wonder who is really thinking Canon will release an EOS 5D Mark IV with an 18MP sensor. However, there is a rumor that there could be two different EOS 5D Mark IV models. In other words: a model split similar to EOS 5Ds and EOS 5Ds R.
Original post:
A new Canon EOS 5D Mark IV rumor surfaced.
It's suggested that Canon is still undergoing tests on an 18MP and a 24MP equipped EOS 5D Mark IV. Does Canon still have to decide which sensor to build in? Furthermore, the rumor suggests the final version will feature the 24MP sensor, while "the lower MP sensor testing AF speed and buffer management issues". What does that mean? Canon using a 5D4 with an 18MP sensor just to test and fix auto-focus and buffer issues? I can hardly see the sense of this. Why should Canon use a 5D4 version with a different sensor to test AF and buffer?
While only a few still believe the EOS 5D Mark IV will have an 18MP sensor (the EOS 5D Mark III has 22MP), it's interesting to see that rumors about a 18MP full-frame sensor continue to surface. In my opinion it is clear (and obvious) that Canon will never ship an EOS 5D Mark IV with an 18MP sensor. But given how often such a sensor gets mentioned, I believe Canon has something with a full-frame 18MP sensor in the works.
Finally, the rumor suggests max 8fps burst rate, and reconfirms the expected announcement in Q1 2016. Not sure how to classify this rumor. CW2 should be fine since there is neither something unheard nor something particularly convincing in this rumor. See all Canon EOS 5D Mark IV rumors here.
About our rumour rating:
CW1 – probably fake rumor, not reliable (less than 15% chance to be real)
CW2 – rumor from an unknown/new source, but otherwise at least a plausible rumor (15%-40% chance to be real)
CW3 – around 50% chance to be real, coming from a known source, or from new source with good insight in Canon's business
CW4 – rumor from a known source that was right in the past, high probability to be true (60%-80% chance to be real)
CW5 – as good as certain to be true
[via
NL
]