Canon EOS C100 Mark II and kits get $1,000 discount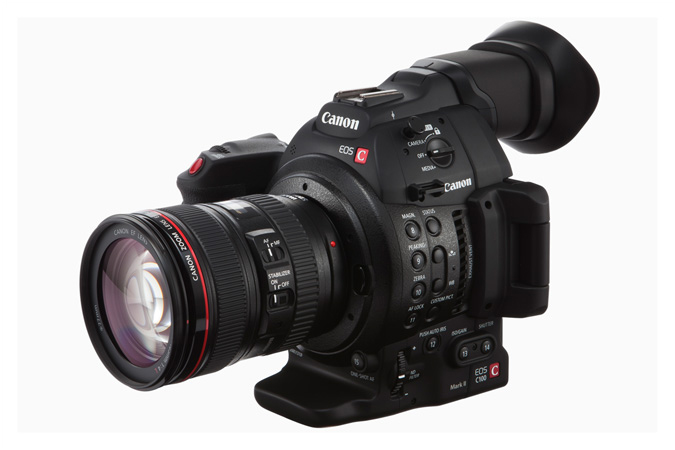 The Canon EOS C100 Mark II and all EOS C100 Mark II kits saw a price drop by $1,000. The Canon EOS C100 Mark II starts now at $4,499.
Canon EOS C100 Mark II: Adorama | B&H Photo
Canon EOS C100 Mark II overview after the break.
Canon Super 35mm CMOS Sensor: The EOS C100 Mark II Digital HD Camera employs the same single Super 35mm Canon CMOS image sensor as the rest of the Cinema EOS camera family and includes the same innovative strategies that have established the outstanding image performance of these cameras.
Canon DIGIC DV 4 Image Processor: The four 1920 x 1080 HD R Gr Gb B video components from the image sensor are pre-processed and then sent to the DIGIC DV 4 processor for advanced video processing. This includes separate interpolation of the sparsely sampled R and BHD components to form full frame 4K for each.
Simultaneous AVCHD and MP4 Recording: The EOS C100 Mark II Digital HD Camera enables users to record in both the AVCHDand the MP4 recording formats in a variety of bit rates (up to 28 Mbps and 35 Mbps, respectively), resolutions, and frame rates, including 59.94p, to address practically any production need
Slow and Fast Motion Recording: The EOS C100 Mark II Digital HD Camera can provide slow and fast-motion video effects when recording in the MP4 format. Slow and fast-motion playback speeds can range from x0.4 slow up to x2.5 fast.
MP4 Conversion: This feature allows for converting an AVCHD or MP4 recording on the SD card in the EOS C100 Mark II camera's main slot into a 3 Mbps (640 x 360) MP4 file on the SD card in the alternate slot. This gives users a smaller file that is easier to transmit.
Redesigned 3.5-Inch OLED Panel: The 3.5-inch 1.23 megapixel OLED display on the EOS C100 Mark II delivers virtually 100 percent field of view coverage, wide and faithful color range support, and improved viewing even in bright sunshine. The EOS C100 Mark II camera's OLED screen has a new hinge design to help maximize monitoring versatility
1.23 Megapixel Tilting Color EVF: Larger and totally redesigned from what was featured on its predecessor model, the EOS C100 Mark II camera's EVF (Electronic ViewFinder) uses a 0.45 inch 1.23 megapixel color panel surrounded by a large professional-style eyecup In addition, the new EVF has a 68 degree tilt angle, for more effective use
Dual Pixel CMOS AF: A standard feature of the EOS C100 Mark II Digital HD Camera, Dual Pixel CMOS AF(AutoFocus) ingeniously deploys the two photodiodes within each sensor Photositeto facilitate a powerful phase difference detection that provides measurement data that ultimately controls the EF Lens focusing system
Face AF Mode: Face AF mode detects and focuses on human faces. Both the Dual Pixel CMOS AF andFace AF capabilities give camera operators more freedom to concentrate on composing their shots and paying attention to potentially unpredictable shootingenvironments.
59.94p Frame Rate: By popular demand, the EOS C100 Mark II HD Digital Camera can capture 1920 x 1080 HD video at a 59.94p frame rate (59.94p is available in MP4 mode at 35 Mbpsand in AVCHD at 28 Mbps). This frame rate can provide captured video with a very "smooth" look that is useful for sports and news applications
Wireless FTP Video Transfer: MP4 and AVCHD video files (and still images) can be wirelessly transferred to a selected FTP server. This feature is particularly useful for transferring time-critical video for news and for backing-up files. The feature uses the 5GHzband for quick, reliable file transfers.
Built-In Microphon: A monaural "mono" microphone is built into the body of the EOS C100 Mark II Digital HD Camera for the capture of reference audio, for spoken notes, or as an aid to synching sound in post. This microphone works onlywhen the removable top handle with twin XLR inputs is not attached.
Built-In Canon Log LUT: Many filmmakers prefer to shoot in Canon Log to protect the integrity of the total dynamic range of which the image sensor is capable, which, in turn, can provide greater latitude in post-production grading processes.
Red Record Buttons: There are three start/stop record buttons on the EOS C100 Mark II Digital HD Camera (one on the front of the camera, one on the removable pistol grip, and one on the detachable top handle) and all are red for bright visibility. Besides aiding with quick identification.
New Ergonomic Re-Design: The EOS C100 Mark II Digital HD Camera features a compact design for comfortable use by a single operator. Subtle but important modifications for smoother operator comfort include indentations around control buttons and a recessed power switch.
Outstanding Low Light Sensitivity and Wide Dynamic Range: The combined performance of the camera's Canon Super 35mm CMOS sensor and DIGIC DV 4 Image Processor achieve a very high signal-to-noise ratio that enables recordings withgreat detail and dynamic range even in minimal light.
Full Manual Control and Focusing Aids: Digital filmmakers preferring complete manual control have that ability with the Canon EOS C100 Mark II Digital HD Camera. Shooters can also create, save, and recall custom picture settings, camera functions, and display options.
Removable Pistol Grip and Top Handle with XLR Inputs and Stereo Mic: The removable top handle on the Canon EOS C100 Mark II Digital HD Camera integrates a built-in tally light, stereo microphone, dual XLR audio inputs for stereo recording, and a mic mount. Audio is captured in16-bit 48 kHz linear PCM format or Dolby Digital.
HDMI Out with Time Code: The Canon EOS C100 Mark II Digital HD Camera includes ascrew-locking HDMI connector for output of live HD video from the camera to monitors or other devices. The camera's HDMI signal features superimposed SMPTE time code for attachment to recorders or other third-party devices.
Canon RC-V100 Remote Controller: An optional Canon RC-V100 Multi-Function RemoteController can be connected to the camera via its remote control cable to adjustimage quality and other settings from a distance. This can also be a handy feature when shooting from a crane, jib arm, or mounted remotely in some other inaccessible location
Canon GP-E2 EOS GPS Receiver: An optional Canon EOS GP-E2 GPS Receiver can be connected to the camera using a USB cable to provide precise location and time information during shooting. This capability can support editing and archiving functions.