Canon EOS C300 Gets Dual Pixel CMOS Auto-Focus Upgrade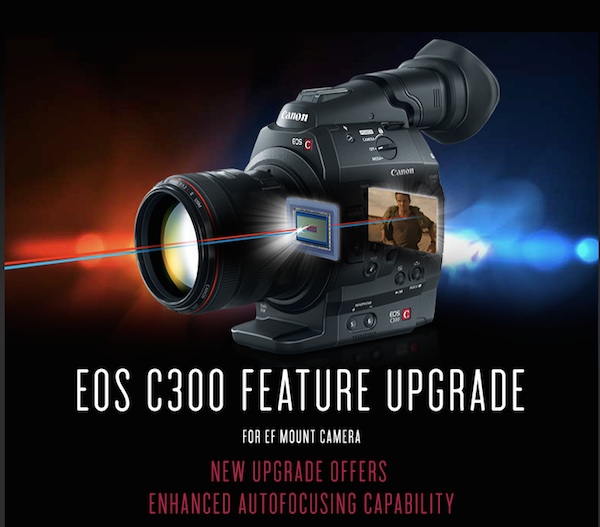 The amazing Dual Pixel CMOS Auto-Focus technology Canon first implemented on the EOS 70D is now available on the Canon EOS C300.
Canon press release:
Available soon from Canon will be an accredited Canon service center installed feature upgrade for the EOS C300 Digital Video Camera that will offer an autofocus mode to help ensure sharp focus and smooth focus transitions. The upgrade provides a new Continuous AF (Autofocus) Function for all Canon EF autofocus Lenses, using Dual Pixel CMOS AF technology. A new AF Lock setting also lets you change the image framing while holding the desired focus. These critical focusing capabilities are designed to help reduce out of focus video while providing for smooth focus transitions and assist users when operating with small crews.

The accredited Canon service center installed feature upgrade for the EOS C300 camera is targeted at users who regularly shoot with smaller crews, who shoot moving subjects, or who want smoother, more natural-looking autofocus. Specific markets include documentary filmmakers, electronic news gathering, sports productions, weddings and similar special events, nature and wildlife, and many others.
To use and enjoy this milestone technology by Canon you don't have to break your bank and get a $14,000 C300, it's already available on the prosumer-oriented Canon EOS 70D. I am using the EOS 70D everyday while on the road in India (together with the awesome Sigma 18-35mm f/1.8 DC HSM). I am working on a review while abroad, first samples shot with the EOS 70D and the Sigma 18-35mm f/1.8 can be seen here.