Canon Financials 2018, Market Going Down But Company Stands Ground, EOS R Key To Future Success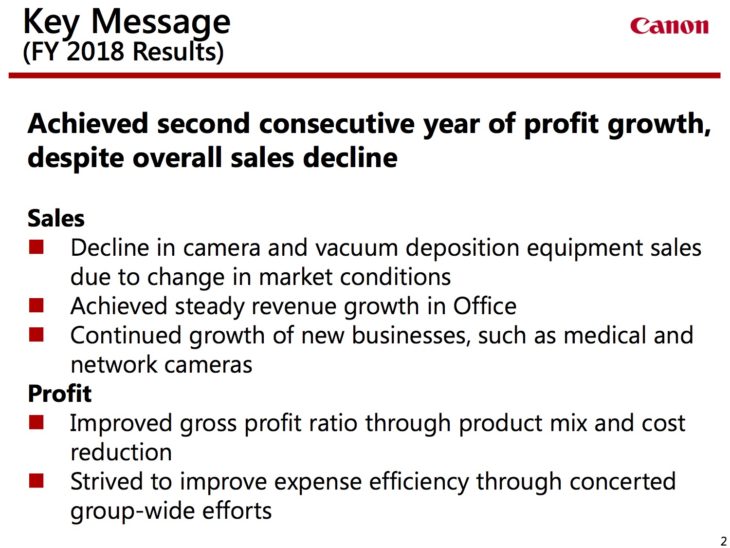 Canon published the company's financial reports for 2018.
Concerning the imaging sector:
Looking at the Imaging System Business Unit, although unit sales of interchangeable-lens digital cameras decreased overall compared with the previous year due to shrinking market, Canon maintained the top share of the overall interchangeable-lens digital cameras market, mainly in key countries in Europe and the Americas as well as in Japan and China. In mirrorless cameras, sales were strong for such new models as the EOS R, Canon's first mirrorless camera equipped with a full-frame sensor, and the entry-class EOS Kiss M. As for digital compact cameras, although unit sales decreased compared with the previous year amid the shrinking market, sales of such high-value-added models as the PowerShot G-series enjoyed solid demand. For inkjet printers, unit sales of refillable ink tank models increased significantly in emerging markets. However, unit sales decreased overall compared with the previous year, mainly due to the shrinking market in developed economies. For large format inkjet printers, the imagePROGRAF TX series, which is suitable for outputting CAD drawings and poster designs, garnered high praise from the market and enjoyed solid sales. As a result, sales for the business unit decreased by 11.3% year on year to ¥1,008.2 billion, while income before income taxes decreased by 31.1% year on year to ¥121.3 billion
Canon looks considers "accelerating the expansion of our mirrorless lineup" a priority. In this sense:
The key to this is the EOS R, our first full-frame mirrorless model, launched in the second half of last year. Although its contribution to last year's performance was limited, sales have been strong due to its significantly improved optical performance, which has been highly rated by users. In order to further increase our presence in the mirrorless camera market, this year we will continue to expand our entire mirrorless camera lineup, consecutively launching new R-System products, including lenses. Additionally, we will also promote change in the distribution of internal resources, from development to production as well as sales & marketing.

Additionally, we will work to improve product mix, raising the proportion attributable to full-frame models that have high profitability by enhancing our mirrorless camera lineup and also expanding sales of full-frame models, particularly the EOS R.

We expect the market for camera equipped with full-frame sensors, which offer superlative descriptive performance, to continue growing at a stable rate. The customer base of this market are particular about image expression and pair their cameras with various lenses depending on the images they intend to capture. We will strive to improve total profitability by expanding sales of the full-frame model like the EOS R which will lead to expanded sales of lenses that have high profitability.
Canon's financial reports are available here. The presentation material can be viewed below:
conf2018e