Canon Kicks Off the #TAGYOUREIT Instagram Campaign with Jamie Chung and 12 Photographers Across Travel, Food, Fashion and Culture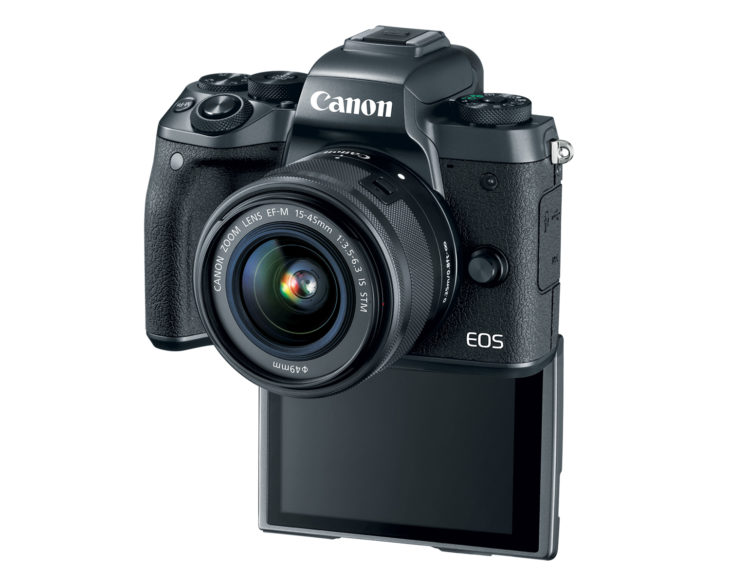 Canon press release;
Canon U.S.A. Kicks Off the #TAGYOUREIT Instagram Campaign with Actress Jamie Chung and 12 Photographers Across Travel, Food, Fashion and Culture
Canon Challenges Selected Influencers to Push Their Boundaries of Photographic Expression with the New EOS M5 Digital Camera through a Game of "Tag" Via Social Media
MELVILLE, N.Y., November 15, 2016 – In celebration of the release of the new Canon EOS M5 Digital Camera, Canon U.S.A., Inc., a leader in digital imaging solutions, today announced the launch of the #TagYoureIt collaborative Instagram campaign. Actress and blogger Jamie Chung and 12 participating photographers, chosen because of their passion for sharing the world around them, will be faced with completing spontaneous photo challenges from now through the end of the year.
Created to celebrate the power of photography in social media, these photo challenges highlight the creativity and speed that can be achieved with the compact and portable EOS M5 Digital Camera. Throughout the campaign, Jamie and each participating photographer will be tagged and challenged by another influencer in the #TagYoureIt program to complete their photo challenge within 24-hours. The game of #TagYoureIt continues when the previous individual tags the next participant on Instagram.
"The EOS M5 Digital Camera is the perfect creative tool for the spontaneous nature of these photo challenges," said Yuichi Ishizuka, president and COO, Canon U.S.A., Inc. "We hope that the photographic journey started by these influencers through #TagYoureIt lives on through their fans and followers who we hope are inspired by these photo challenges."
A sample #TagYoureIt challenge could include creating and capturing a sample outfit inspired by the year you were born or making something inedible look edible and delicious.
"I'm honored to kick off the #TagYoureIt campaign as it really resonates with how I challenge myself every day to see the world differently," said Jamie Chung. "I love to have fun with my looks and no matter what bag I'm wearing, the Canon EOS M5 is a great camera to pack when shooting for my channel since it's lightweight and compact but still powerful."
In addition to Jamie Chung, Canon #TagYoureIt participants are:
Natalie Amrossi, @misshattan
Morgan Phillips, @morganphillips
Lucy Laucht, @lucylaucht
Rodrigo Trevino, @rodtrvn
Cole Younger, @cole_younger_
Matt Crump, @mattcrump
Tiffany Mitchell, @tifforelie
New Fork City, @new_fork_city
Sarah Phillips, @Food
Madeline Lu, @lumadeline
New Darlings, @Newdarlings
Emily Ann Gemma, @emilyanngemma
The EOS M5 camera includes a range of features that allows its user to capture beautiful content without the size of a traditional DSLR camera, but with similar power and performance. Camera features include: built-in Wi-Fi®1 and NFC technology, Bluetooth®2, High-speed continuous shooting, time-lapse, Full HD 60p video to capture fast-moving subjects, compatibility with the full Canon line of EF and EF-S3 lenses and more.
The campaign will extend through December and can be tracked on Instagram using #TagYoureIt. Participating influencers will be challenging their fans to answer a challenge of their own for a chance to get reposted or get a special shout out. Be sure to follow along with #TagYoureIt for an opportunity to participate.

About Canon U.S.A., Inc.
Canon U.S.A., Inc., is a leading provider of consumer, business-to-business, and industrial digital imaging solutions to the United States and to Latin America and the Caribbean (excluding Mexico) markets. With approximately $31 billion in global revenue, its parent company, Canon Inc. (NYSE:CAJ), ranks third overall in U.S. patents granted in 2015† and is one of Fortune Magazine's World's Most Admired Companies in 2016. Canon U.S.A. is committed to the highest level of customer satisfaction and loyalty, providing 100 percent U.S.-based consumer service and support for all of the products it distributes. Canon U.S.A. is dedicated to its Kyosei philosophy of social and environmental responsibility. In 2014, the Canon Americas Headquarters secured LEED® Gold certification, a recognition for the design, construction, operations and maintenance of high-performance green buildings. To keep apprised of the latest news from Canon U.S.A., sign up for the Company's RSS news feed by visiting www.usa.canon.com/rss and follow us on Twitter @CanonUSA. For media inquiries, please contact [email protected].
About Jamie Chung
Jamie Chung, born and raised in the San Francisco Bay area, is quickly becoming one of Hollywood's most sought after young actresses. She is well known for her role as "Mulan" on ABC's hit show ONCE UPON A TIME. She was a series regular in the JJ Abrams and Alfonso Cuaron produced NBC drama BELIEVE and Hulu/ Paramount's comedy RESIDENT ADVISORS. Currently, she can be seen heavily recurring in the third season of GOTHAM on Fox.
Her studio feature credits include blockbusters like Frank Miller's SIN CITY and THE HANGOVER 2 & 3. She's worked with great directors like Zack Snyder in Warner Bros' SUCKERPUNCH and produced her own film IT'S ALREADY TOMORROW IN HONG KONG. She also starred in and was praised for her harrowing performance in EDEN, winner of the Special Jury Award and Audience award at SXSW. Jamie voiced "Go Go Tomago" in Disney's Academy Award winning animated feature BIG HERO 6 and is continuing to voice the character in the upcoming animated series of the same name. Other notable feature work includes Sundance indie RUDDERLESS opposite Billy Crudup, Universal's MAN WITH THE IRON FIST produced by Quentin Tarantino, and political film KNIFE FIGHT opposite Rob Lowe. She can next be seen in theatres in Paramount's comedy flick OFFICE CHRISTMAS PARTY, premiering this December.
Jamie also runs the popular fashion blog WhatTheChung.com
#  #  #
† Based on weekly patent counts issued by United States Patent and Trademark Office.
All referenced product names, and other marks, are trademarks of their respective owners.
1 Compatible with iOS® versions 8.0/8.1/8.2/8.3/8.4/9.0/9.1/9.2/9.3, Android™ smartphone and tablet versions 4.1/4.2/4.3/4.4/5.0/5.1/6.0. Data charges may apply with the download of the free Canon Camera Connect app. This app helps enable you to upload images to social media services. Please note that image files may contain personally identifiable information that may implicate privacy laws. Canon disclaims and has no responsibility for your use of such images. Canon does not obtain, collect or use such images or any information included in such images through this app.
2 Compatible with Android™ smartphone and tablet versions 4.0/4.1/4.2/4.3/4.4/5.0/5.1/6.0.
3 Mount Adapter EF-EOS M is required when using EF/EF-S lenses for EOS M series digital cameras.