Why Did Canon Make an EOS M3 Without Dual Pixel AF?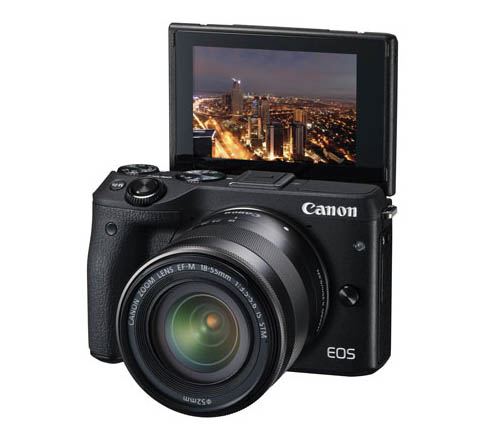 The EOS M3 is here. My sources got most of the specs right. It looks good, robust yet not massive. It has the manual control dials customers asked for, the tiltable display customers asked for. The M3 can be used with an EVF (EVF-DC1), customers asked for it. And there is more: WiFi connectivity, built-in flash, a rugged body. Everything fine so far, the M3 looks and appears fine, but one thing is really puzzling me: there is no Dual Pixel CMOS AF on board. I wonder why.
Big question in my opinion. Canon has this amazing technology called Dual Pixel CMOS AF. We saw it on the EOS 70D and the EOS 7D Mark II, not to forget the professional oriented cinema-cams C100 and C300. So, why did Canon not add it on the EOS M3?
To be honest, I have no idea. Maybe the 49 points Hybrid CMOS AF will deliver. Hybrid AF is not bad on the SL1 and M2. But can it compete with Dual Pixel AF? I'm used to the high precision, speed, and reliability of Dual Pixel AF on my trusted 70D, and it works like a charm everytime. When I use the Sigma 18-35mm f/1.8 with apertures brighter than f/2.8, Dual Pixel AF is the way to get the focus nailed – the conventional AF is not able to focus the Sigma in a confident way at these apertures (which is probably the fault of the Sigma 18-35mm). This is an important point: if you love the Sigma 18-35mm f/1.8 (you should, it's an amazing lens) and want to use it at its best you need Dual Pixel AF to be sure to get the focus nailed when using f/1.8-f/2.8.
I want to see the reviews and test before making a statement but an EOS M3 with no Dual Pixel AF is a bit disappointing, so far. I was hoping for an EOS M3 with the 70D or 7D2 sensor. Canon made a new 24MP sensor (hurray!), and did not add Dual Pixel AF.
Is the EOS M3 a half-baked affair, what do you think?
EOS M3 specs:
24.2MP CMOS sensor (22.3 x 14.9mm)
AF is 49 points. Hybrid CMOS AF
ISO 100-12800
Media SD / SDHC / SDXC (UHS-I compatible)
DIGIC6 processor
Wi-Fi
Continuous shooting 4.2 frames / sec.
384 zone metering
Battery LP-E17
The shutter speed is 30 seconds -1/4000 seconds
Video full HD
Built-in flash
LCD monitor tilting 3 inches 1.04 million dots. Touch panel
GPS is not equipped
EVF option (EVF-DC1)
The body is stainless steel, magnesium alloy, polycarbonate
The size 110.9 x 68.0 x 44.4mm
Weight 366g
Announcement of the M3 and more Canon products will be tomorrow Frida, February 6th at 5am London time, 11pm EST. I will live blog the event so stay tuned on CW tomorrow in order to not miss anything.